Monday, October 03, 2011
I have a secret pleasure: I like to weigh heavy objects to see how many of them I once carried on my body. I don't share this with the people (except hubby) I know in RL, but you guys... my sparkbuddies... I know you love doing it too.
I've lost 60 lbs with SP & 105 overall. Here I am dragging 60lbs of clothes for donation up to car. It was too heavy to carry! Blows me away I once carried this and more every day, all day long.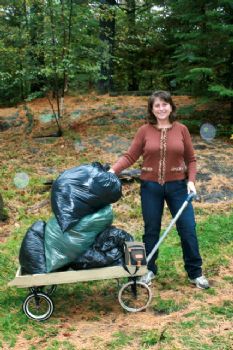 I was ruthless in the closet today. If it doesn't fit now or if I don't really like it, into the donation bag it went. At one time, I thought I'd be satisfied if only I could reach the impossible dream of regular size 14's. Now I'm a 10/12. It felt a bit surreal to be tossing my "dream" jeans. Bittersweet too- I thought I'd be thinner by this size, but there is so much pleasure in going into a regular store and knowing I don't need the largest size.
I'm still 23lbs from the top end of the healthy BMI range. I've always thought of myself as big-boned... but I'm realizing now that I'm actually tiny in here. I'm thinking I'll end up being a 6/8 at 150.
Dropped off my donations & did some shopping myself at the church sale. I love it because the prices are so cheap! I got a red fall coat (good for walking in the woods - have to be visible to hunters!), a very nice set of fuzzy pj's, 3 sweaters & an exercise DVD for $9.
It's really pouring outside again. Glad I took DeeOhGee for her walk before the church sale. She was so happy. 2 days of no walking & she had a ton of energy to burn. Racing up and down the path like a crazy dog. Too funny! Got her to sit still long enough for this one: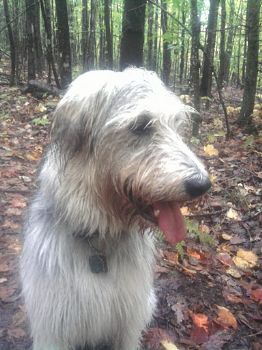 The forest is so pretty when it's wet. The tree trunks are normally a much lighter colour, but turn almost black when wet. A lovely contrast against the green leaves.