Sunday, October 02, 2011
I've had a hard time seeing my weight loss lately. The scale continues to move, but most of my clothes feel the same.
Then I looked back on a picture of me when I was at my heaviest in May of 2011. It's a picture of me in my Salvation Army uniform. It was obvious that I needed to get a bigger size, but I kept putting it off because they are expensive. I just had another picture taken today and I can tell there's been a change. The uniform is still tight on me, but not puckering. Also, in the first picture it looks like my buttons are ready to fly off. I can also see a change in my face--but part of the difference is due to the different hairstyles.
Here goes--May 2011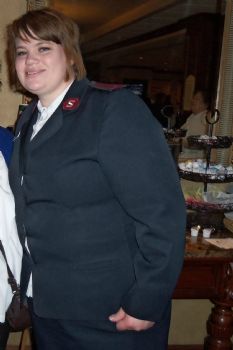 And today, October 2011. Five months later