Breakfast (7:40 a.m.)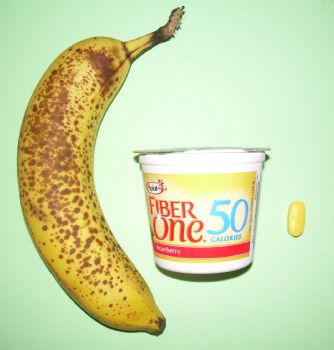 A very ripe medium banana; Fiber one yogurt; multivitamin
This ISN'T a typical breakfast for me. But, I knew I was going out to dinner with my sister that evening, so I was trying to keep everything fairly light.
Snack or Lunch (whatever you want to call it) (12:18 p.m.)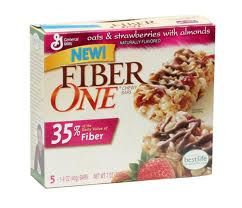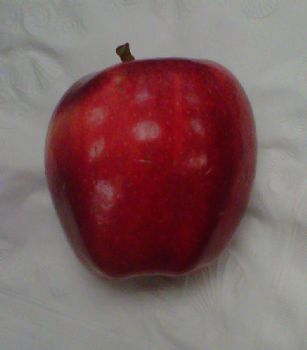 I was in a class at church from 9am - 12p. When that was over, I immediately had my snack that I brought with me. But there were also refreshments downstairs, so I grabbed an apple and ate that too. The fiber one bar would have been sufficient. Honestly, I felt like "greed" caused me to consume the apple as well. I know that it was a healthy choice, but looking into the *reason* why I added that apple to my already consumed Fiber One bar was just because it was there and it was free. That IS something that I struggle with; so I thought I'd mention it here just as a way of bringing attention to it for myself.
Dinner (5p)
I had dinner with my sister at Olive Garden. Eventhough I'm not counting calories, per se, I'm still mentally noting them and trying to consider them. I couldn't help myself. So, I asked our server for the Garden Fare Nutrition Guide before I ordered so that I could make better choices. Yay me! LOL Sooo.. of course you get the unlimited salad and breadsticks: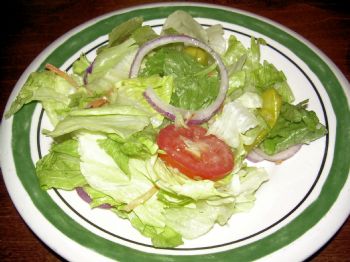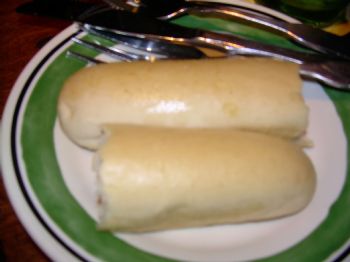 I had two bowls of the salad. It already has the dressing on it, so who knows how many calories was in that. I had two breadsticks. The picture shows one breadstick split in half, because I thought MAYBE I could eat half of one and call it a day. That didn't happen. Anyhooo...
For my main course I ordered the Capellini di Mare, which was highlighted as one of their lower fat entrees. It was also a lower calorie choice. The entire entree is listed as being 650 calories. And this is what it looked like when they brought it to the table:
HOWEVER, I *immediately* asked the server for a to-go box and only left on my plate what I thought to be an adequate portion size (considering that I had already eaten salad and had two breadsticks). So, this is what what left on my plate after I put the rest in a to-go box: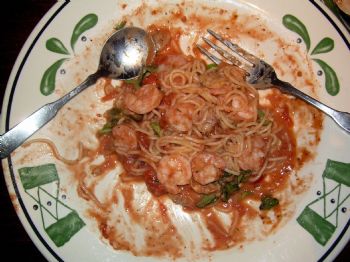 Not bad, huh?
I really wanted a dessert, but the dessert I *really* wanted (Warm Apple Crostata) was 730 calories!!! LOL I didn't want one of those little itty bitty mini desserts either. Soooo, I decided to skip dessert altogether.
It helps when you go out to dinner with someone who is making good, healthy choices as well. My sister is a good influence as far as portions are concerned. She doesn't go overboard. She always eats just enough of what she needs. She's a Type 1 diabetic so she has always been really good about watching her intake and she has never counted calories. She always has leftovers. She's like a size 6!
Looking at her reminds me that my goal is attainable and that I'll mostly likely look just like her when I reach it. LOL People already asks us if we're twins anyway and I'm like 12 years older than she. We always get a kick out of that... well at least I do. LOL
Well, that's it for Day 1. Tomorrow morning is weigh-in. I'll just post it on my sparkpage. If there's a lost, SparkPeople will announce it and you'll see it. Otherwise, keep following the journey... something is bound to happen sooner or later. And, I think that THIS is going to be my month! :-)
EXERCISE TOTALS:
Cardio & Calories Burned MINUTES CALORIES BURNED
Walk 30 min/mile 120 348
Daily Totals: 120 minutes; 348 calories burned