Saturday, October 01, 2011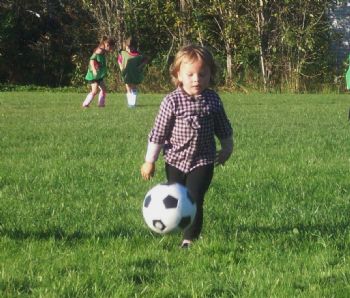 *Disclaimer~ That picture is NOT from today!*
Well the title pretty much explains my day LOL! It kept looking like it was going to rain, and only being in the 40's snow would not have been surprising, but my son had soccer today! He was at my Mother in Law's house so I waited till 11am when the first game started (not his team) to make sure that the game was actually going to take place. I am lucky in that matter because the soccer field for the Rec. Center is across the street from my house LOL! So once I saw the game was in gear I went and got D-Man at the MIL's and we went over to the game. It was freakin COLD out so I decided that I really didnt want Melly-Bean out in the cold. We sat in the car (right at the edge of the field and watched the game. Melly-Bean had a snack and watched a movie on the portable DVD player. There were 3 games today and D-Man's team played in 2 of them so we were there till almost 1pm. The kids were pretty cold when we got back to the house but they warmed up quick.
DH got out of work at noon and met us at the Soccer game but he had to go back out at 1pm to help his boss with the Moose he got the other day (boss is a hunter). Normally I am annoyed when DH has to go back and forth like that, but when it includes free meat for my family, I dont mind at all! We have a nice selection of Moose meat in the freezer, plenty to hold us through most of the winter!
While DH was gone, Melly-Bean had a melt down and than when he got home, the poor man walked into the middle of it! He tried to settle her but she was to far gone at that point and had wandered into the territory of Full Blown Temper Tantrum! After trying to get her settled and failing we sent her to her room. I went up and gave her what-for about her attitude and than left her in her room to think about it and shut the door. Drum roll please... she fell asleep! HA not tired my tush! She woke up 2hrs later and was in a better mood. I went up to get her (baby gate was up) and I asked her if she remembered why she was sent up there. Her reply "I was naughty. I had a bad attitude and I threw toys" WELL I guess she did think about it LOL! She went downstairs hugged her dad and apologized! DH stood there with his mouth hanging open. PRICELESS! LOL!!!
We all had dinner and than goofed off for a bit. Things got a little rough and I got kicked in the nose. Not broken... this time... wouldnt have been the first time! Pretty sore and a little swollen though! My poor cursed nose, I have broken it to many times to remember LOL!
Hope you all have a great evening and see ya in the morning LOL