The statistics are disheartening no matter how you define weight maintenance.
Here are two extremes:
5% of people manage to stay within about 5 lbs of their goal weight.
www.ncbi.nlm.nih.
gov/pubmed/10224727
20% of people manage to keep off at least 10% of the weight they lost in the first place.
www.ncbi.nlm.nih.gov/pub
med/11375440
But look at these numbers:
NELLJONES has maintained for almost 41 years.
SHIRLEYD1959 has maintained for over 23 years.
JACKIERN and BETH7CAM have maintained over 8 years.
PERSISTENCEMIMI, ZUCCHINIQUEEN, CAROLJEAN64, and JCORYCMA have all maintained over 5 years.
When I'm trying to do something that is hard, I like to have role models. For bicycling, Lance Armstrong is a pretty good one. I like to read about how he eats, trains, and LIVES. I'm not Lance and I'm not going to ride in the Tour de France anytime soon, but I still get good ideas and motivation for my own training. And that makes me a better cyclist.
Weight maintenance, as shown by the statistics above, is also difficult. Unlike world class bicycle racing, or even the world of weight loss, we almost never see maintenance role models acknowledged, let alone celebrated. So how do I even find out who is good at this game so I can learn from their experiences?
I make a list, that's how.
As one way to keep ourselves focused and engaged, we've started celebrating maintenance anniversaries in the At Goal and Maintaining team.
www.sparkpeople.c
om/myspark/team_messageboa
rd.asp?board=0x1111
In the process of finding out when to celebrate those anniversaries we've also ended up collecting a list that can be sorted in terms of how long people have maintained. You can see it here:
tinyurl.com/maintenance-
hall-of-fame
Years maintained
40.764 NELLJONES
23.125 SHIRLEYD1959
8.292 JACKIERN
8.292 BETH7CAM
7.244 PERSISTENCEMIMI
6.844 ZUCCHINIQUEEN
6.139 CAROLJEAN64
5.097 JCORYCMA
4.886 POTRIDGE4
4.556 GOLIONS
4.333 PEGGYT3
4.194 -HORSELADY-
4.139 CAROLJEAN64
4.05 DIDMIS
4.017 DLVANCE24
3.958 ANNE403
3.242 ERPARA
3.181 DUBINJL
3.175 LF5517A
3.056 MOM5INFL
3.042 AEHEGE
2.764 SPARKARINO
2.747 LILAC93
2.619 BORN2BLOSSOM
2.558 SLENDERELLA61
2.556 BULBS
2.208 BESTSUSIEYET
2.125 WATERMELLEN
1.906 BAILEYS7OF9
1.875 SHERONN66
1.825 LAURIE5658
1.806 DONNAEDA
1.725 4A-HEALTHY-BMI
1.639 SLOANARTS101
1.55 HUSKYPUP
1.244 MAYFLOWERCHICK
1.239 HAPPYLOSERS1
1.156 ONEKIDSMOM
1.081 ROSEWAND
1.056 CAHUNO2
1.028 GUITARWOMAN
1.022 62NVON
0.911 CHERRYALLIE
0.897 LADYBUG999
0.897 BRONWATER
0.892 CLARKBAR01
0.794 GISSELLET
0.792 MEXGAL1
0.75 SKIRNIR
0.747 HAPPYSOUL91
0.733 ELLEKTRA
0.703 DENISEFULLER
0.639 SHELBSYD
0.556 AGILLASPIE60
0.5 COACHMOMMY
0.478 NORTHWOODSMOM8
0.461 G1NNY7
0.458 MAGGIEROSEBOWL
0.458 MJREIMERS
0.4 MAARTJEBOL
0.392 HEALTHYCALM
0.372 MIRAGE727
0.369 CARTER4414
0.367 LJR4HEALTH
0.314 CARLAKYN18
0.303 STARDUSTD
0.289 LOVINGIT7
0.239 SUSIEMT
0.139 EMEXROSE
0.125 MILEHI52`
0.078 SHERRYJVP
Those long-term maintainers are the folks that the REST of us need around. For their advice, support, and as living, breathing examples of people who are putting in the work every day to keep their fitness. They have life throwing them curve balls too. And they have setbacks. And they overcome them.
Over 60% of us on the At Goal and Maintaining team have maintained less than 2 years.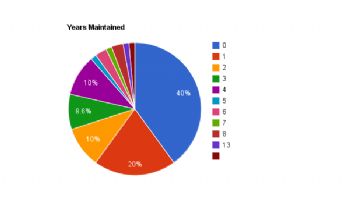 docs.google.com/spreadsh
eet/pub?hl=en_US&hl=en_US&
key=0Ah4KrA4GkhKgdC1oVGRkV
TA0bUNTZk5zTGtzeHZGRmc&sin
gle=true&gid=9&output=html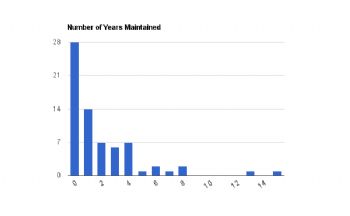 docs.google.com/spreadsh
eet/pub?hl=en_US&hl=en_US&
key=0Ah4KrA4GkhKgdC1oVGRkV
TA0bUNTZk5zTGtzeHZGRmc&sin
gle=true&gid=7&output=html
I think if we can figure out how to stay engaged and focused and learn from these people, I think we can beat those depressing published odds.
We've started having maintenance challenges, to see who is good at holding weight steady for two months. And we're brainstorming and investigating other ways to keep ourselves interested and involved.
If you are maintaining and would like to celebrate YOUR anniversary, I encourage you to join the team
teams.sparkpeople.com/ma
intaining
and also put yourself in our list of maintainers:
docs.google.com/spreadsh
eet/viewform?hl=en_US&form
key=dC1oVGRkVTA0bUNTZk5zTG
tzeHZGRmc6MQ#gid=0
And if you'd like to make maintainers more visible and celebrated, one thing you can do is "like" this post so more people will see it (and them).
---------------
Update: One year later the list is still going strong, with twice the number of maintainers on it!
www.sparkpeople.com/mypa
ge_public_journal_individu
al.asp?blog_id=5057292