... or maybe that's just the pong emanating from me at the completion of my not-quite-5k-but-nonetheless-m
ost-epic-run-to-date today. Oh yes, the sweet eau de 'holy shiz on a stick, I just ran for 30 mins non-stop without infarcting!'
I remember back 8 weeks or so ago when embarking on the C25K program. Although it features a very well-laid out schedule, with each week offering manageable incremental increases in intensity, I still questioned how successful I would be with it. As a hitherto avid walker, running just seemed so ... well ... HARD. I checked out pics of strong, sleek physiques, compared my own jiggly junk in the mirror, then made a beeline for the treadmill.
Did I say manageable increases? Ho ho - it didn't seem that way at times. "I've just got this 'run 3 mins, walk 3 mins' thing down pat, and next week you want me to up it to FIVE mins at a time? And the week after that, EIGHT?!" Each lengthening of the running phase - no matter how small - seemed formidable almost to the point of being impossible.
But the conquering of that first week - heck, the first day - of C25K felt so satisfying that it instilled in me the desire to keep going, keep challenging myself. I became hooked on the sense of accomplishment I felt after every session, and indeed have had to temper my urge to run every day. I incorporate trail walks, free running around my neighbourhood (shorter but more intense slogs than my C25K treadmill sessions given that where I live is hillier than Christina Hendricks), stationary cycling and the odd HIIT session when I really feel like brutalising myself.
Which brings me to today. 2 days ago I completed a session comprising a 5 min warmup and cooldown and 2 8-min running bouts punctuated by a 5-min walk. Challenging, but not too arduous. I checked the mission for today: 5-min warmup and cooldown, and ... 20 mins of running.
Twenty. Uninterrupted. Minutes.
Gulp.
I donned my workout gear and Ipod, kicked off to The Angels' 'We Gotta Get Out Of This Place' and off I went. 5 mins of running ... 10 mins ... I'm convinced that time actually passes more slowly when you're on a treadmill. Listening to music does a good job of staving off the mind-numbing boredom, but only just. I looked out the window and watched the trains pass. I looked at myself in the mirror, the wobble of belly and thighs (oddly mesmerising in its own way) ... and before I knew it 20 mins had passed. I'd done it! But, for no other reason than to see if I could, I kept on going. For another 10 mins.
Sure, I looked like this afterward: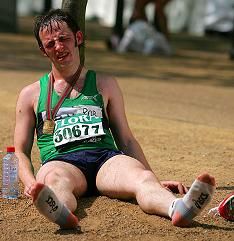 But I felt like this:
5k, you are so my bitch.