So Iím sitting here having a pity party for myself. Iím in pain and depressed because I canít do the things I want to do right now. Heck, I canít even navigate my way into the bathroom with my crutches. Because of complications found during surgery, Iím scared I wonít be able to use my foot like I used to. This could impact not only my health and fitness but also my career. So yeah, Iím feeling a little down.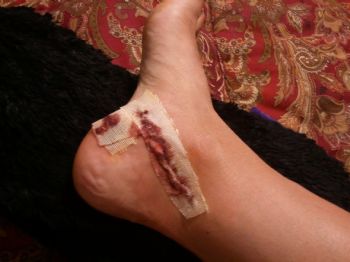 I have no fitness minutes to log and canít start Yoovieís challenge like I wanted to. In spite of all of this I canít help but be inspired by Yoovieís blog. I might be a little down right now; sure I might be a little behind in the challenge. But, I made sure I had the latest Oxygen ready next to my bed to put my workout together as I convalesce. I have my laptop in bed with me to review the benefits of various strength strategies. My tracking methods are ready. I agree 100% wholeheartedly with Yoovieís blog post where she shares the purpose of training (and Iím gonna have to hang it on my wall Ďcause I love it!):
Training for your future
Training to handle the worst
Training to get the most out of the best
Training to be able to do what you have to do
Training to make your family strong
Training to make your sense of self strong
Training to make your body and mind powerful
Training yourself to lean toward improvement
Training yourself to always move forward
Training yourself to conquer walls, to shove past obstacles, to laugh in the face of opposition
Training yourself to Succeed. This is me. This is who I want to be and who I train everyday to be. So yeah I can get down for a little bit. During tough times I can stay focused by relying on SparkFriends like Yoovie. Iím allowed a pity party every now and then.
But I bounce back! In three weeks, I may not be able to run, do my plyometrics or kickbox, but I can ride the he**out of my new spin bike. I might not be able to run that triathlon in October, but maybe I can do the one in November. I wonít ever give up because training creates the balance my life needs.
Thanks Yoovie for reminding me today that I have supportive friends; people who want to see me succeed. Thanks for keeping us focused. Thanks for reminding me that I am a strong woman and can kick bu*t. Thanks for lifting me up today!