Saturday, September 10, 2011
Wrote on my holiday in Gran Canaria:
I consider this holiday has overall been a SW success. Sure I HAVE drunk lots (bacardi rum and coke light or lots of sangria – love the orange and lemon in it). Have also eaten lots and lots of apples, oranges, veg and salad.
I am even more pleased that I have had NO bread, pizza, garlic bread, cakes (of any kind) pastries, croissants etc which have ALWAYS been hugely tempting to me in the past on an all inclusive holiday! That would be serious with the alcohol syns as well!
My friends arrived at the end of my first 7 days and after that we had several days where we had 3 course lunches and teas (tried to keep it low syn of course but it was quite a lot of food). I was glad we only had 3 days like that 'cos I think my willpower may have sunk!
I did aqua gym on lots of days between 30 and 60 minutes and really, really enjoyed this. Didn't do much other exercise though apart from a little more swimming.
early in my holiday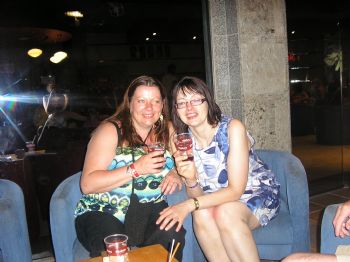 at end of my holiday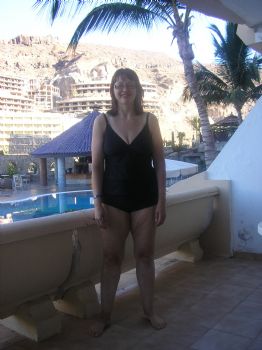 I was really proud of joining my children on the slides at the waterpark 3 days including going on the huge white slide (scarey!) and on the last day going 4 times with both my darling children on the blue slide. I am sure it took longer to climb up all the steps on any of these slides than to travel down the slide!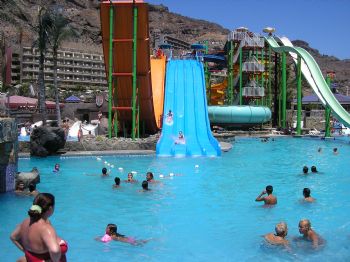 Since getting home
On Saturday my hubbie weighed himself and me and it was still within target so I went on a binge and ate a few things I shouldn't have eaten! I was very tired too. I did really get a grip though and planned to be good on Sunday.
Sunday started well until my accident! My husband keeps saying how proud he is that I have not eaten the stress away this week as I may have done in the past. Its lovely to hear and helps me not to succumb to anything too synful! He really has been so kind and wonderful to me following the accident. I am so lucky!