So, for those that don't know, my fiance, Justin, and I are getting married April 22, 2012 in Cocoa Beach, Florida on the beach. We are so excited about this new chapter in our life and are working on planning our big day. After picking out our date, location, and booked our wedding company, I began the search... the search for the perfect wedding dress!
I actually found a perfect dress on my second outing, but after telling the boutique that I was ready to order, they informed me that the dress had been discontinued and there was no way to get that dress ordered for me. I was so upset!
Well, today I decided to go out a third time and hope to find something I loved. I wanted to show you all some of the dresses that I really loved (and hopefully get some feed back)... (these are in the order that I tried them on) so without further ado, here they are...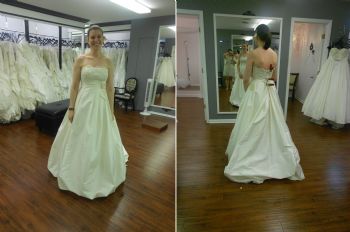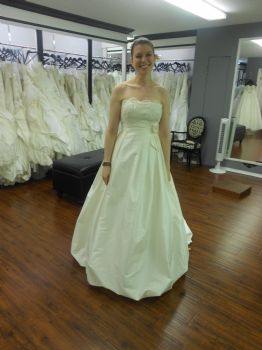 Dress #1 - Casablanca Bridal. Lace and bead detailing across bust with scalloped edge across neckline. Gathered waist with flower. Bubble hem. Button details down back of dress. Only available in ivory.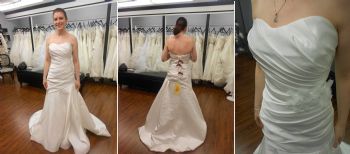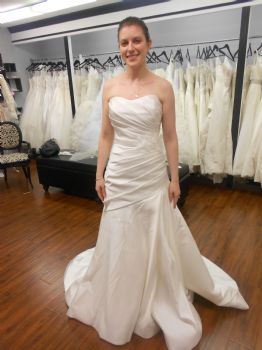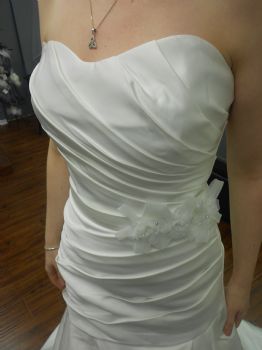 Dress #2 - Jasmine Bridal. Sweetheart neckline. Gathered pleating across bodice. Waistband with flower detailing. Similar flower detailing in single strap across right shoulder (not shown). Button details down part of back of dress.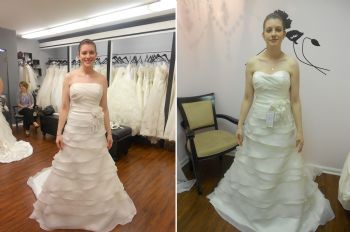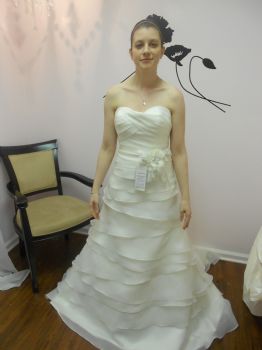 Dress #3 - Mon Cheri Bridal. Straight strapless neckline (although could be made into sweetheart - see picture 3). Uneven tiers across entire dress. Tiered train. The sash is not part of the dress. It is purchased seperately. The one I actually liked was just straight across with beading.
So those are my favorites from my shopping trip today. Let me know what you thing :)