A few weeks before my wedding I called up Beachbody because my ChaLEAN Extreme dvds just would not play. They said they could send me replacement DVDs for $50. Which is really reasonable.
Anyways, last week I still hadn't received a shipping notification or received the dvds so I called again. Turns out the customer service rep didn't finish processing my order. They felt bad and ended up FedEx'ing me the package of replacement DVDs FREE! I paid nothing! The package contained all the books and the bonus deluxe DVDs that I didn't order before. When I ordered it there was only the 3 deluxe workouts where there are now 7 total.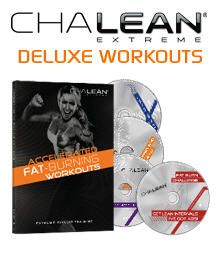 I now own:
Lower Body Extreme Zone (40 minutes)
Extreme Core Circuit (12 minutes)
Extreme Intervals (40 minutes)
Dynamic Flow Yoga (40 minutes)
In addition, on the Burn It Off DVD there was a bonus workout - which was:
I tried out the Fat Blaster workout yesterday. I had read that this workout was what had inspired Turbo Fire. It's all drills. It is set up a little different than Turbo Fire in that the drills are longer but you also do it first with her at a lower intensity...and you do that in it's entirety - not like in Turbo Fire where its a brief overview.
But the workout was good.
Today since I had planned on doing Lower 20 Class from Turbo Fire, I decided to swap it for the Lower Body Extreme Zone. OMG! Let me tell you this is extreme. I was soaked in sweat and my legs are very sore today!
I followed it with Fire 30 class and my legs felt like jelly for the first few minutes but then my muscles felt right again.
I can't try out the other new workouts until I get my exercise ball pumped up. I don't have a pump so I need to grab one and probably won't be able to until tomorrow or over the weekend.
But I am so happy with them!
The hubby and I are currently trying for a baby as well. Not sure how long it will take us but we're having fun trying! hahaha
Because of possible baby we are also looking for a new house....haven't found anything yet but we're still hopeful.
I have my 10km zoo race in 3 weeks! Cannot wait! My sister-in-law is coming with my niece to watch and then we can all walk around the zoo after. I cannot wait!