I Raided my Daughter's Closet!
Thursday, September 08, 2011
Well, not really. She is 5'10" and weighs 130 pounds. BUT, she is the recipient of lots of hand-me-downs from my niece. DN went to Oklahoma State University, too, and we have boxes of OSU apparel that she can no longer wear. Yesterday DD was upstairs looking for sweats that she and DD #2 could wear for their 6 am cross country workouts. (Those 45 degree runs are chilly!) She called down, "Mom, what size bottoms can you wear now?" Ok, that is a trick question. You know sizes vary tremendously, and collegiate apparel runs notoriously small. She found a pair of "swishy" capris that were a size L. And they were orange. (Go Pokes!) Of course they were too big for her, but they fit me!
So, here is a pic. While not beautiful, I wanted TERESA159 to see another article of clothing that I would pack to wear WHEN I get the chance to meet her. I'm packing these OSU capris AND the teal Rocky Mountain jeans I wore in my "50 Pounds Gone" blog.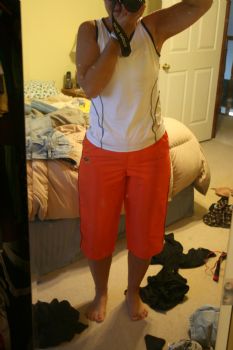 By the way, this week was "blogging and feedback" week for the 5% summer challenge. We were supposedto blog about it so that we could get people to sign up for the fall challenge. I checked yesterday, and the number of people signing up for that challenge had exceeded 550 members, which was the cutoff. SO, the blogging must have worked!