Sunday
Sunday, September 04, 2011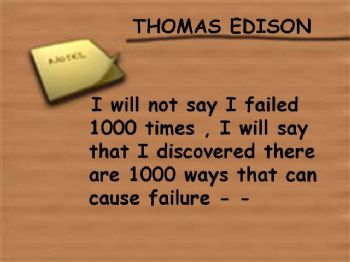 I've seen this quote many times but it blows me away every time I see it. Imagine working at something practically everyday and never seem to be able to get it just right.
That's what Thomas Edison did. He failed at reaching his goal in creating the light bulb 1000 times before he was able to achieve success.
But he was determined to do it despite his struggle and frustrations. And thankfully he kept on trying until he was successful. Someone once said: "If you can dream it, you can do it."
Just like Tomas Edison , along my journey to weight loss and fitness, I am subject to failure many times. The important thing is that I don't give up.
I don't want to turn around and go in the other direction. I already know what that's like because I've been there for many years already.
Thank you for walking with me during my weight loss journey. You've made my journey more motivating simply because of your encouragement, in your own way.
Have a great Sunday everybody.