Saturday, August 27, 2011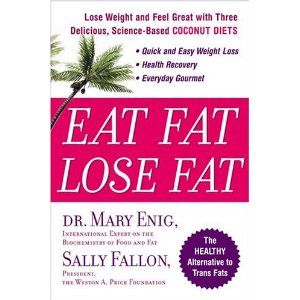 This book is the diet recommended by the Weston A. Price foundation. It's very similar to a Paleo/Primal diet. The main difference is the WAPF allows the consumption of "traditionally prepared" (sometimes called "properly prepared") grains and legumes. However, they don't encourage a lot of grain consumption for those who need to lose weight.
The book has some great information on the role of saturated fats in our diets, with a heavy emphasis on coconut oil. The first several chapters are well worth reading, but the book gets a little diet book-ish after that. However, I still recommend it and think it would be ideal for anyone interested in learning more about the benefits of coconut. There are also some really fantastic recipes in the back of the book.