its that time again....bikini pics.....
Saturday, August 27, 2011
Alright spark peeps....its the weekend...its been two weeks since my last bikini accountability pics...so..I took some more. BUT FIRST............remember my insurance issue and my rant against America?! ..Well I still definitely think America and their healthcare system is SCREWY. BUT...I did get verification from my previous insurance company that my coverage ended 10/31/10 and my new coverage became effected 12/24/10...which is LESS than 63 days..which means I SHOULD (cross my fingers ..pray...beg) be ok with coverage. I'm not sure what Einstein decided the 63 day thing..but whatever.
Let's see what else...so you all know about baby mama drama....she is doing all this stuff to us and then calls Troy up the other day just to talk about Kodi and how much his childcare costs now and how much its going to cost. She was nice and just acts like its no big deal. It bothers me. She doesn't pay a dime. She doesn't say a word about her douchebag moves for custody and to move the child support hearing back. ITS SO WIERD. What bothers me is that Troy just lets it go without bringing it up or holding her accountable for being an idiot. I guess it's the lawyers job now..its just hard b/c she isn't going anywhere.....UGH. She's such a game player..mind screwer...JERK. Yes..I know...send her love and light....forgive..BLAH BLAH BLAH BLAH BLAH BLAH.
Now that THATS off my chest....
I have been doing 30 Day Shred. I like it lot. I feel like I'm slimming down a bit in the past 2 weeks. Not major changes but I'm glad I took the pictures because I was feeling a little stagnant and stuck but the proof is in the puddin peeps! These pics were taken 8/13.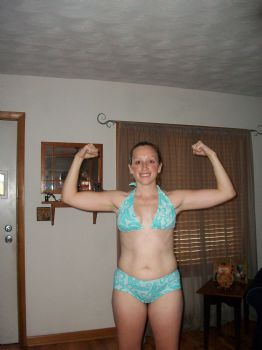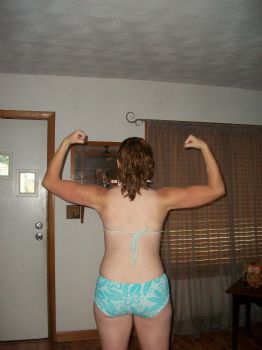 Now below are the ones I took this morning. I can definitely see my stomach flattening out a little and slimming of the waste line. My side pic is still a troubling one to look at by my pooch is shrinking..a tiny bit but its going...PEACE OUT POOCH!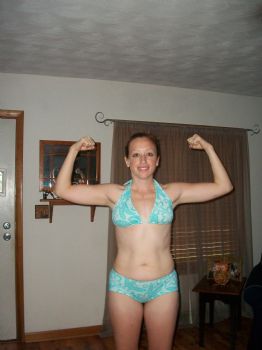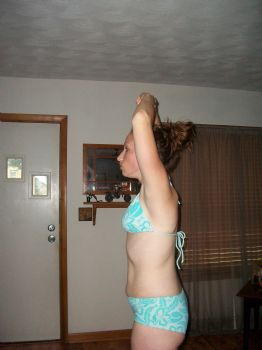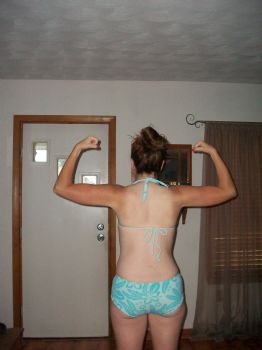 I enjoy the cardio in 30ds...I think its a great program ..the intervals..my eating has probably left a little to be desired but I've been staying within my range. Whatever..this was TOM week and I wanted to eat a 30 lb chocolate bar..but I didn'..SO that IS and accomplishment! haha! I ave the day to myself today and tomorow until Troy gets home from work around 630p so I'm enjoying some ME time. Going to do Tabata from s90 and 30ds level 1 day 6 today....GET PUMPED UP! I hope everyone/anyone that is in Irene's path is taking cover, doing alright, staying safe! I hope eveyone has a wonderful weekend! Now go sweat a little!