Recipe For Disaster
Tuesday, August 23, 2011
We've all heard some "expert" advising that we should only weigh ourselves once a week. And there's proven wisdom in that as The National Weight Control Registry (
www.nwcr.ws/
) has reported that participants that weighed in at least once a week maintained the greatest losses over time. I too adhere to this and weigh in only twice a week: Sunday is what I post here and again midweek to see how I'm doing. Sometimes good and sometimes not so good.
Now a new study is preaching the gospel of the daily trip to the scale. Researchers from the University of Minnesota looked at more than 3,000 obese and overweight adults who were enrolled in trials that either focused on weight loss or on the prevention of weight gain. At the end of the two year study, researchers found that those who weighed themselves on a daily basis lost an average of 12 pounds, compared to people who weighed themselves weekly and lost an average of six pounds. Those who said they never weighed themselves gained an average of four pounds.
Of course, if one wants to follow such a regiment there should be rules like weighing at the same time every day, like first thing in the morning, and not weighing yourself next to windows above the 1st floor if prone to fits of hysteria at what you might see on the scale.
Although more studies are in order, researchers reason the daily weigh-ins allow people the opportunity to catch small increases in weight, and make the necessary changes, before they become bigger increases in weight. So where do you stand on this issue? Me, I'll be on the scale on the 1st floor.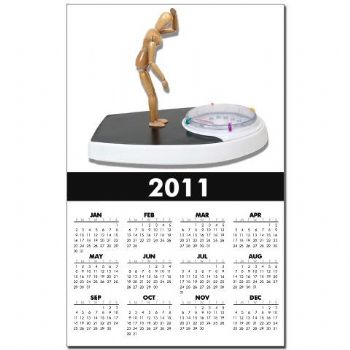 Study in: Annals of Behavioral Medicine
Excerpts from: "Study: Daily weigh-in helpful for some dieters" at
bodyandhealth.canada.com
/channel_section_details.a
sp?text_id=3868&channel_id
=1055&relation_id=30090