EDIT: Um, Family of 7...with 5 children...the bleach was really strong?
I'm keeping my hands busy with things I LIKE! Video games are fun, but, I'm more of a creative soul. I love crafting. I love crochet, knitting, painting in acrylic, sketching, pastels, gardening... you get the idea.
I have a billion (and one) things I am daily obligated to do, but, I need to get get my hands busy doing things that do not involve dumping crap in my mouth to handle my stress or that I am OBLIGED to do. So, I am sharing my thang that I'm into.
[Yes, I am avoiding painting Katie's room, ripping up the rug on the stairs, and the floor in the kitchen like they have the plague. Thank you for asking.All work, and no play makes Lizzy nuts and really chunky.]
Years ago I worked nursery at church with a very extroverted lady that was married to a C.S.I. guy. She was AWESOME. I loved working with her. She was an avid crocheter. The year before I met her she had severe health issues. In order to combat the pain she turned to crocheting instead of food to keep her occupied because the pain sometimes was not perfectly maintained. That year she made 300 crocheted snowflakes and maintained her weight.
The only reason I found out about her Christmas Tree challenge is because her husband (who is one of those adorable husbands who is constantly looking to be proud of his wife; Praise God for Christ-like men), brought in a photo of their Christmas tree. He had seen me knitting up a storm for arrival of my elephant (I mean daughter) and wanting to foster a friendship with his wife, he hunted down their photo to brag on her. I wish I had that photo.
Let me tell you it was gorgeous. Jaw-dropping, envy-of-nations, GORGEOUS! She had that tree with warm white lights (I call them fairy lights), gold beads, and those 300 white crocheted snowflakes of three sizes and varying designs. It was a masterpiece. It was the most elegant Christmas ornament I had ever seen. This photo below is nothing compared to hers, but, I wanted to give you a taste of what I'm aiming for...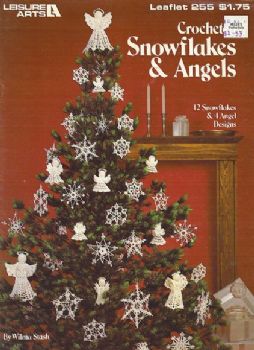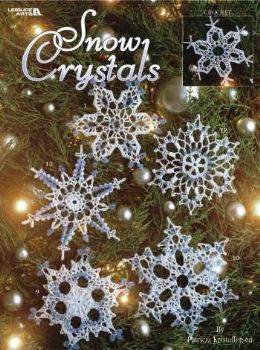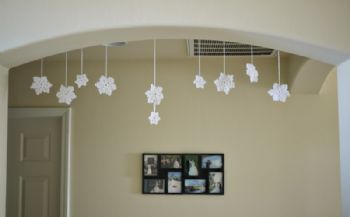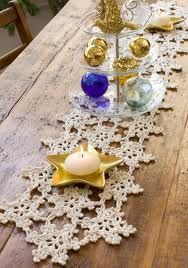 I don't know If I can stop at white....I'm eying up the blue sparkle already.....and then the gold was calling my name today.....OH, and of course what happens when I get my hands on the Glow-in-the-dark?!!!!!!
Pandemonium people!!!