Even though it's 7 miles to the top of Mt. Timpanogos, it's an incredibly popular hike. In fact, for the last few months I've been telling people that my goal for the summer was to summit Timp and I would get responses like "I love that hike, I've done it every year since I was 4!" Or "My Grandpa just hiked that for his 75th birthday!" Lots of people hike it, it's not too difficult for most, but the 14 mile round-trip hike has been out of my league for 31 years. So it was a big deal to me.
We live just below Timp, I see it every day. I have the perfect view of it from my favorite treadmill at the gym. I would look at the peak during my workouts, find the crag that I was planning to hike to, and increase my incline, always visualizing myself at the top. (Visualization works, try it.) This hike has been an abstract goal of mine since last summer. I had been working hard at losing weight and had some success, though I still weighed 275 lbs.. My husband and brother in law did the hike, and when Blake got home and told me all about it I told him right then that in the summer of 2011 I would do the hike with him. He loved the idea, but we tucked it away, so as to not get our hopes up. Come spring, I was down to ONEderland, feeling strong, and ready to take the goal seriously. We started hiking once a week. 3 miles, then 5, then 7, until we were doing about 10 miles a week. I also started training towards the goal at the gym. Spin, walking inclines, yoga and lots of glute and hammy work. Lots of glute and hammy work. OMG, so much glute and hammy work. August 14th rolls around and I'm ready to take on the mountain!
We woke up at 6 am to the sweet smell of rain. "Just get ready, we're going." he say's. Who am I to argue?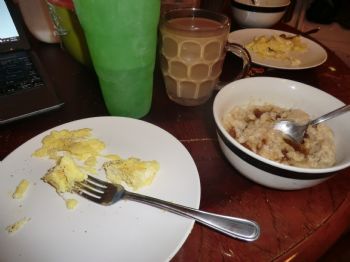 Oatmeal, eggs, coffee, banana, a little Spark. I love a big breakfast!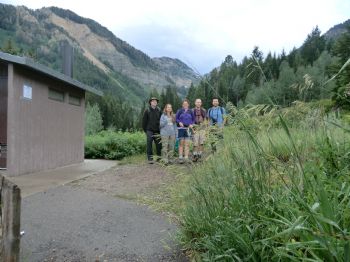 7:45 at the trail head. My best friend is there, we're all telling jokes and laughing, comparing trail snacks and tales of a sleepless night. My friend say's "I love the beginning of a hike, when spirits are still high." So true.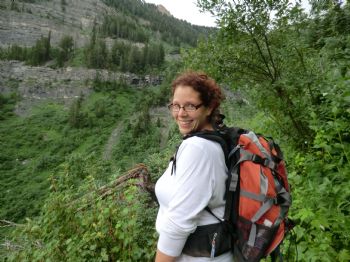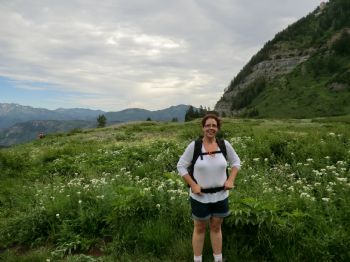 It's nearly impossible to describe how beautiful it was out there. There was cloud cover, but it was clearing up. We had a really heavy winter, late spring and wet summer, which means perpetual wildflowers in the mountains. I couldn't tell you how many times we all said "This is beautiful!" or how many times we all stood, speechless, trying to take in the landscape. I kept reminding myself that this was a place in the world that I never could have experienced if I hadn't done the work, and how glad I was that in my lifetime I was fortunate to experience such beauty.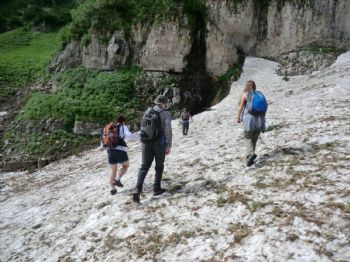 We got to this snow field and my confidence started to falter. We knew there was still snow on the trail, we had been keeping up with the reports. It was nerve wracking, but not nearly as scary as what was ahead.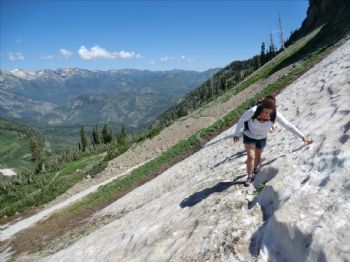 This is the point in the hike where I was rehearsing in my head how I would tell my husband that I just couldn't finish the hike. Physically I was fine. In fact, the rest of my group was complaining about their quads and having to stop to catch their breath. I was just fine. But I was scared. Blake could see it in my face and would smile and tell me I was doing great. In the picture above I had to work out a strategy to get me through. See, I couldn't stop too often or for too long to see how far I had to go because I would get wobbly. I would focus on the one step ahead, plant my foot hard, make sure I had it, and take the next step. I had to look up sometimes, to remind myself that I was getting closer, but nothing mattered as much as the next step. I made it just fine. The adrenaline was orgasmic!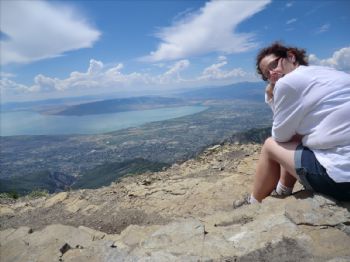 It was quite a grunt to the saddle. It's about 6.25 miles up. The trail ran along a very steep cliff. It was loose gravel, and steep. When we got to the saddle I could look ahead to the winding trail that lead to the summit and I wanted to be sick, I could hardly appreciate the view of Utah Valley below because I was so focused on how scared I was. My husband had a signal on his phone and called the kids. He handed the phone to me and my 6 year old reached through the line and touched my heart when she said "You're brave mom, go to the top." I tried not to cry, put on my pack, swallowed my fear and pressed on.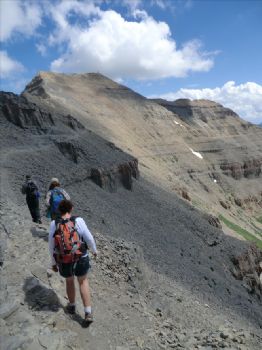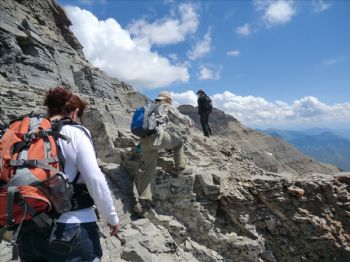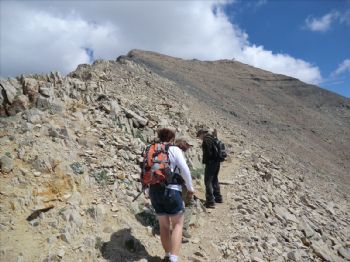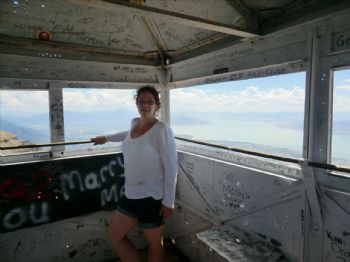 Made it! 7 miles! 6 hours! I felt amazing! We spent a little time up there taking pictures, eating, hydrating, making each other laugh. I sat quietly for a while, trying to process.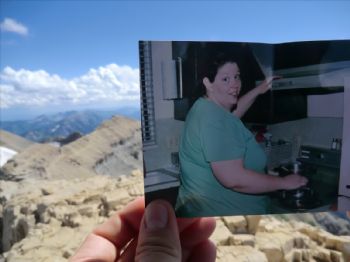 I had carried this picture with me the whole way. It was taken in April of 2007, just after I married Blake. I was 320 pounds. I hate this picture. Blake and I looked at it a while. I shared it with my friends and we talked a little about what my journey has been like. Everyone said how they can hardly remember me that way. I hardly remember myself. I know I was living in shame and fighting off depression most of the time. I was in love and happy to have met such a wonderful man, but could hardly get comfortable in the relationship because I didn't feel worthy of it. I was always tired. I was sitting out of my own life because it's hard to live fully in a body like that. I sure as hell wasn't spending my Sunday afternoons on the tops of mountains. But I love the woman in that picture, because it was her, after all, that decided to make a change. It was her that believed that the woman I am today existed. She had no proof, no assurance that it would work. But one day she put on her tennis shoes and walked a mile. She drank more water than she was used to and stopped eating after 8 pm. Then she did it again the next day. I owe everything to woman in that picture. I didn't tear the picture up or burn it like I thought I would. I folded it up tightly and stuffed into a corner of the shelter. She belongs up there. It was her day.
We finished the hike at 8 pm. I had blisters. I was sick of it by the end. I needed to go to the bathroom. I was glad it was over. We stopped for burritos on the way home, scarfed them, showered, and crawled in to bed. It wasn't until the next morning, when I opened my eyes, stretched my body and felt the days hike in my muscles, that I was overcome with joy. I have done it. I am here. I am the woman I always wanted to be. I have more body fat to lose, but I don't have to wait anymore to live my life. I can do anything, today. I am more motivated than ever to show my body unconditional love and respect, by feeding it well and using it often.
Thank you for reading this. I've been so looking forward to the day I could write this, thanks for being here for it. Show yourself some love today.