I am sitting here today realising just how many changes, what a difference my fitness journey has made to me!! Metaphorically – the chrysalis has hatched, the butterfly has emerged but is still stretching its wings.
I look back at the photos of myself in 2002 when I started this journey – and think – was that really me??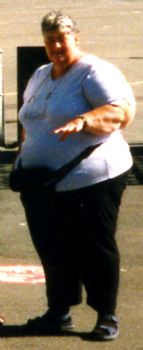 I am sure that a lot of people reading this cannot understand that I really never accepted that I was that size – I was on holiday in South Australia when that was taken and I had been on other holidays, lived a reasonably normal life and continued to do so until about 2004. I was losing weight, very slowly, by then but it was about then that my knees started causing limitations to my life. By 2005 I was using a wheelie walker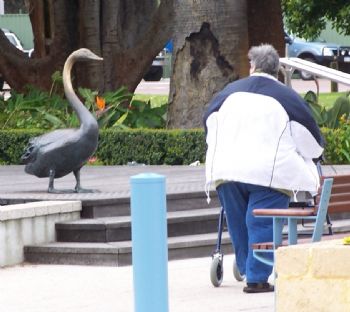 2005 in Perth - watch out for that Black Swan - Oh! its only a statue!!
By 2007 I had bought an electric recliner as I couldn't get out of a normal lounge chair and I had bought a mobility scooter and was using it for everything It was in 2007 when my DH and I decided to go to West Australia on holiday. This was actually the first time my DH had shown any inclination to go away with me – I had travelled alone up to then. So I wanted this to be a great holiday.
It took a huge amount of organising –Firstly we needed accommodation in Brisbane for both the night before the flight to Perth and the night after the flight home as the 4hr train trip and 30min car to the train was enough to exhaust me.. I had to take the scooter, so I had to check the train to the plane would take it and book 2 seats for me in the same carriage as a loo as I couldn't jump between carriages on a moving train, , book it into the plane, and book 2 seats, and organise that I could have assistance and a wheelchair at the airports, make sure the car we hired was big enough for scooter and us, make sure everywhere we stayed had hand grips in the loo and bathroom, had a shower I could use, and that we could get the scooter into the places we were staying, ensure that we could access tourist sights with a scooter and that view points were accessible, ensure that where we needed taxis it would be a taxi with a lift, and had to even take a friend with us to help as my carer – and it goes on!! It took me 6mths of organisation and booking – but in the end it was a great holiday!! But how much easier it would have been, and less expensive, had I been more mobile!!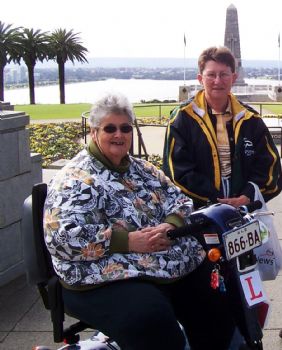 2007 – Perth –(Yes I went to West Australia twice!!) I am on my scooter, and with the friend who had to come to assist!!
I was still using my scooter, and therefore having to cart it everywhere, in 2009 , and still getting 2 seats in transport. WE even bought a car that would take the scooter in it, that had a seatbelt long enough for me and that was big enough and high enough for me to get in and out easily – but not too high so I would have to scramble – and also a trailer that we used for the scooter – to take it to the shops.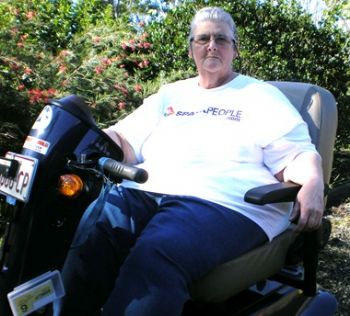 .
This week I went to Brisbane for the day for the Aussie Spark Rally ,
I was able to travel by myself, I got 1 seat on the train, I just picked up the phone and booked, like a "normal" person!! I left home at 3.55am, having got up to get ready at 3.15am. My DH took me the 20min to the coach, I got the coach,1hr, to the train then the train for a 4hr trip. I spent the day in Brisbane and then did the reverse trip home, arriving at 9.55pm at my home!! I didn't even need a seat in the same carriage as the loo!! I could even drop the tray table in front of me!!
The one concession I made to my slight lack of balance and still strengthening knees was packing my collapsible walking stick in my bag – just in case!!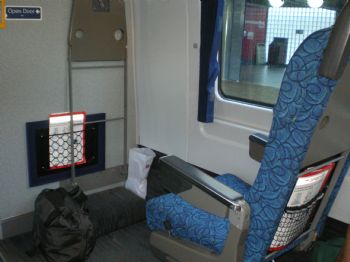 My seat on the train – and the space I had – very comfortable!!
I was able to get onto the coach, despite the big step up – last time it took 2 strong men to haul me onto the coach, and getting off was a case of falling into their arms and hoping they caught me!! This time I just stepped off – same with the train !! I was even able to go up and down the steps onto the platform without using the ramp!!
I could move on the train – just – but that was the same for everyone – two people nearly fell, had to be caught in our carriage – because the train was so rough!! I was a bit annoyed about this as I wanted to go to the next carriage to see if I could cross the join between the 2 carriages – but I daren't move!! It was bad enough trying to use a loo one handed!!
The reason I wanted to try moving was that in 1995 we came home from the West on a train and I couldn't move between carriages to go to the dining car so they had to serve meals to me at my seat!! Maybe I can test that out next time!!
I could get into a small car – a low car and got out of it – several; times!!
But the thing that really bought home the changes to me – was that – at the station going home – I was able to use a normal size toilet stall – and could get in with my luggage as well and could shut the door – then I also had room to change my jeans into a loose pair of workout slax to come home in!! Always before when I travelled alone I have had to ask some nice looking stranger to look after me luggage – a thing that I hated doing as one never knows if the things will be there when you come back – because I had enough trouble shutting the door of the loo stall without the luggage as well!!
And then even after all that trip – I had enough energy the next morning to go to Curves for a workout!!
A lot of these changes will be things that anyone who hasn't been very overweight, who hasn't lost all strength, and had to go through the slow process of building muscle strength again would not even think twice about – but I know there will be people reading this today who can relate to these changes!!
It is possible - you could do it too!!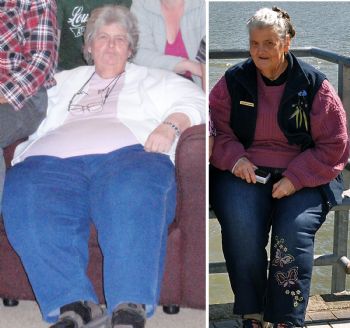 Visually all the exercise and muscle strengthening add up - - on the left picture I had just joined Sparkpeople, and although I had lost some weight from my highest weight I hadn't started exercise – I was still using the scooter and was still very soft and floppy and still wearing size 34 clothes.
In the picture on the right- I have been a Sparkpeople member for about 2 ½ years – I have been doing exercise, both strength and aerobic – I now wear size 18 jeans, but unfortunately I was wearing a size 32 sweater – although I am actually size 18- but it was cold and windy and I like that sweater- its nice and roomy!! LOL!! –however it really looks like I have to get a new one!!-
So you can, I hope, understand my analogy- of the chrysalis has hatched but is still stretching its wings.
The next meeting next year will be bigger, better and stronger and by then I will be smaller (I hope), ……….better and stronger……. maybe, but by then the butterfly will be ready to stretch its wings and fly away, leaving the chrysalis behind.