Thursday, August 11, 2011
I thought I'd share one of my "awesome~nest" projects this week. I had to start with my biggest undertaking to make sure I didn't peter out and not get it done. Also, being that it's a craft closet, it was so easy to just shut the doors and keep it a secret. But that didn't make it go away... it just made me feel like a fraud. Since I keep kids in my home, I have to keep it clean. But hiding my piles behind closed doors or in a room the parents don't go in reminded me of those cartoons when someone unwittingly opens a bulging door only to have an avalance of "stuff" fall on them. No home is without it's "piles" or "junk drawers"... mine just happened to take up a whole closet. Not that I don't have three junk drawers too... I have a plan for that also. I'm going to take a basket and empty them all into it. Then as I need things, I'll take from the basket and after using it, put it in it's place... You know "a place for everything and everything in its place". Then after an alloted amount of time... three, six months(???) whatever is still in the basket just gets thrown out!
But I'm getting off the subject... first let me show you my dirty little secret. I've opened my doors to the craft closet to get a glimpse of what I was hiding.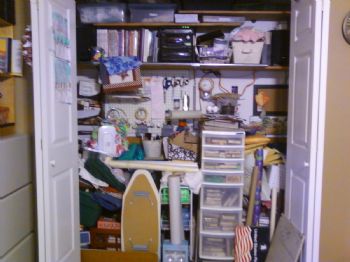 After about four hours of pulling things out and throwing a few things away, this is what it looked like...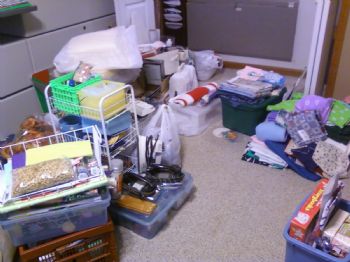 Notice the gray thing up on the wall in the closet... that's a table top my husband and I hung in there to swing up when in use and down when I'm not using it. Sounded like a great plan, however, once it got put down it only opened up more room for me to stuff and shove more things in. As you can see in the next pic, it's up now and ready to be used... AFTER I finish up a few other "awesome~nest" projects.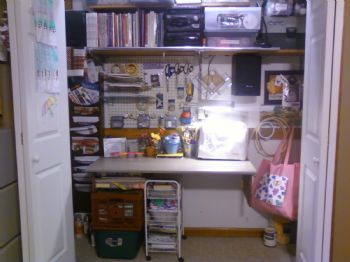 What an

reward this turned out to be.