Itís only Wednesday morning and itís already been a big week for me. First, let me say a big thanks to everyone who watched the little hoop video my daughter and I posted. Itís amazing to belong to a community so accepting and tolerant of such mayhem. Thanks also for the motivating member thingy! If my shenanigans encourage you in any way, Iím a happy Sparker. On to the disclaimer--
OFFICIAL MOSTMOM1 DISCLAIMER: Several of you mentioned running out to the toy store and buying a hula hoop after watching our video. Thatís cool, but Audrey and I are a little concerned for you. Weíre afraid youíre going to try hooping with those, get frustrated, and mail them all to Cincinnati. While a yard full of hoops would make for interesting lawn art, weíd like to avoid that situation. We used an adult-sized dance hoop in the video. Itís 42Ē diameter and weighs 1.5 lbs. I have two other hoops; 38Ē and 1.5 lbs and 42Ē and 2.0 lbs that I use strictly for cardio. The dance hoop is the only one Iíve been able to use for tricks; the others are too heavy and the kid ones are too light. I canít get a kid-sized hula hoop going at all! Neither can Audrey. So, if you really want to give it a try, itís worth checking out the grown-up hoops. There are lots of places where you can order online (thatís what I did). Some people even make their own and have a lot of fun with that. Anyway, our consciences are now relieved.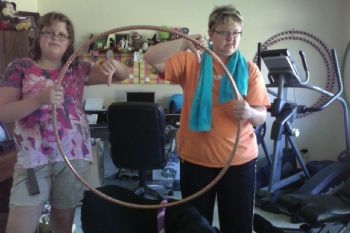 Sad hoopers with toy store hoop. (Also, Gunner still won't go through the hoop...)
Happy hoopers! Note the added product placement with SP shirt and wicked awesome workout towel. :)
I have a brilliant friend, FITFORMYFAMILY, who started saying that sheíd been SparkWashed. You know what Iím talking about, how your brain is transformed long before your body is? Iíve been SparkWashed and I love it. But I didnít realize how much it would trickle into other parts of my life. SparkGuy warns about this in The Spark. He says, ďAs you improve in one area, your actions cross over and build upon other areas at the same time--what we call the Ďcrisscrossí effect. So donít be surprised if you begin to see positive changes and your life improving in ways you never expected.Ē He also says--(why do I feel like Iím quoting Scripture?) ďDare to dream! One thing youíve learned is that reaching goals is infectious. Once you reach one, youíll want to reach more.Ē
SparkFriends, this is happening to me. Purple streaks in my hair? Why, yes, thank you. Post a video blog where you literally let it all hang out? Sure, why not? Learn to play the cajon? Okay. See, for several months, I kept telling my DH we should buy a cajon for someone to play in the band at church. Cajons are those cool boxes that drummers slap, you know, like the guy in The Script? Anyway, I thought it would be a cool thing to add to the mix. Lo and behold, he brought one home not too long ago. Thing is, he said I should play it. Me? I havenít played an instrument since college. Granted, I was a percussionist, but that was a billion years ago. PreSpark Shelli would probably have said no. SparkShelli says, heck yeah and might as well order a foot tambourine to go with it! Hereís a pic of my foot tambourine, which came yesterday. Itís probably not as exciting as you pictured in your head, but itís still pretty nifty. Depending on the set list, I might play this week. If I do, Iíll try to get Audrey to film some of it to post in another vlog. Heck, Iíll even add a special hula hoop/foot tambourine-in-my-Mad Hatter-hat clip at the end. Not at church. Although, they probably wouldnít care, they do know me...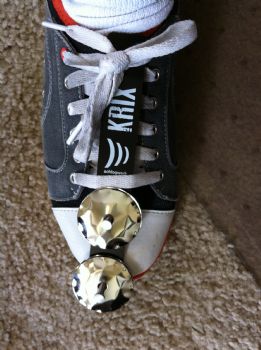 Ching-ching!
But my biggest NSV this week, is taking the first official steps to opening my own tiny, lil media production company. This is something Iíve wanted to do for a long time, but never had the courage to follow through with it. After I posted that silly little hoop video, I thought, ďIf I can do that, I can do anything.Ē So, I bought and registered my domain name, wrote a business plan, and started all-out training to get some additional certification and experience. Itís in the early stages, itís going to take time, but itís happening.
So, hereís whatís kind of scary--I havenít even lost 20 pounds yet. In the past, confidence only came when I reached an end goal and I never enjoyed a weight loss journey. Thatís probably why the 50 pounds jumped right back onboard. Now, the weight loss is almost like an added perk. The confidence and positive attitude have already been life changers. (Okay, I confess to being neither confident nor positive while helping my teenage son learn to drive lately, but even SparkPeople have their limits.) What in the world is gonna happen when I DO lose the 50 pounds? What on earth will I do or try? I have absolutely no idea. I just hope, whatever it is, itís legal...