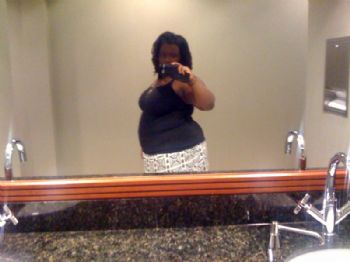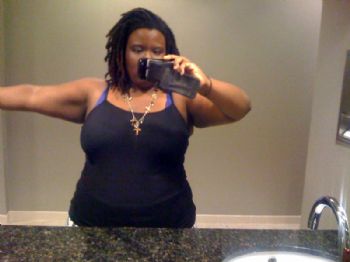 SO.... I haven't taken any body pics in a long while. I decided to take some bathroom pics at work to get me in the groove. These are my before front and side pictures and I'm so done looking at myself like this.
So.... I went grocery shopping tonight. I literally stayed within the perimeter and it was pretty pricey but it's cheaper than surgery, cheaper than diet pills, cheaper than shopping for the Atkins diet or the cabbage diet, and certainly cheaper than nutrisystem meals. No more fad diets, I'm done with that.
Grocery Cart: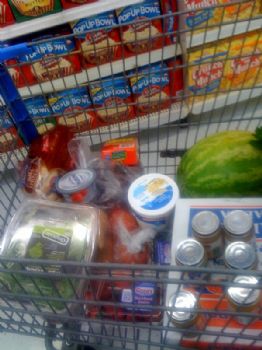 Strawberries, blueberries, watermelon, tomato, onion, bananas, sweet potato, fat free plain yogurt, green peppers, 2 1/2 dozen eggs, bagel things, fat free cream cheese, fat free cheese, salad, fat free dressing, and some other items I cannot think of. (and baby food for my midget of course lol)
No more garbage. Im done with that.
To keep me accountable- I'll be taking a photo food journal.... I saw this on a few of my sparkfriends' pages so I decided to adopt the habit- get ready to see a LOT more of me and my blogs.
: P
These are my declarations:
I WILL see results
I WILL lose 1-3 lbs a week until I hit my plateau (and then I'll crank it up a notch)
I WILL exercise 3-4 times a week
I WILL see food as fuel and not as comfort
I WILL provide a better example for my daughter
I WILL lose 100 lbs
I WILL make DGOTD (...one day...)
I WILL have one of cliche pics of me and a friend both fitting into my size 24 jeans
YOU KNOW WHY? BECAUSE I AM DONE BEING THE FAT GIRL