Made My Goal..
Monday, August 08, 2011
Saturday morning I approached the scale knowing I hit my goal weight, 130.8 (hoorrayyy!!). I finally made it. It feels great!!!! I must continue to push. My birthday is 10 days away. The big 4-3 is right around the corner. My new goal is 125. I hope to be down to 128 pounds by my birthday because I intend to eat 1 piece of cake, enjoy a small calamari, have a little peanut butter and enjoy my cheat meal on August 19th. Yes, I am enjoying some sweets, but I deserve it. After this indulgence, I will immediately get back on my journey (August20) and have an hour of intense cardio on Saturday (August 21st) morning.
The flat stomach was created by eating clean, strength training and cardio.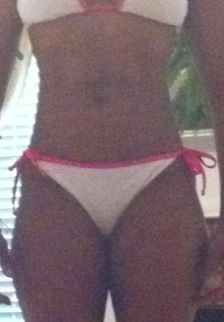 If you are on your journey, stay true to yourself. You know will make your goals too...