"With Age, Focus on the Body Shifts from Appearance

to Function

"
"In study, exercise's biggest psychological boost came from improved health and ability, not attractiveness By Kathleen Doheny HealthDay Reporter"
www.sparkpeople.com/reso
urce/health_news_detail.as
p?health_day=655599
""And this study confirmed that as satisfaction with appearance and function grew, symptoms of depression declined. But the mental-health boost was even greater with perceived gains in bodily function than with changes in appearance, the study found." SP Health News.
This is so HUGE. Most of us oldies realize the importance of body functioning. And appreciation and reverence for what our bodies can do. Forget that Helen Mirren has the sexiest body, the rest of us accept being normal. I tried a bathing suit on yesterday and

, so much for appearance. Give me the ones with a little skirt as the inside thighs of over 70's should only be considered in the functional sense.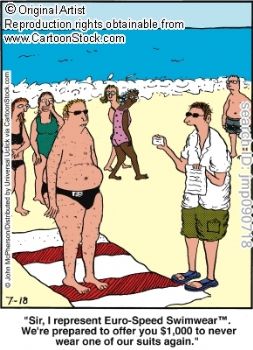 Function is important to keep us out of depression they say, and so does our computer time Sparking.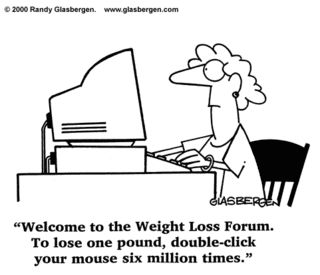 Most of us are at the age to afford a gym or exercise equipment finally. BUT our bodies have to be able to function to use them. On exercise, just do it and then keep on doing it.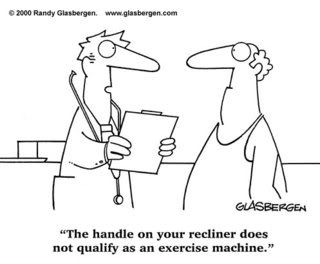 From exrx.net..
.What fits your busy schedule better, exercising one hour a day or being dead 24 hours a day?
Randy Glasbergen, Cartoonist
Those who think they have not time for bodily exercise will sooner or later have to find time for illness.
Edward Stanley, Earl of Derby (1826-93), British statesman. The Conduct of Life, address at Liverpool College, 20 Dec 1873.
Exercise and temperance can preserve something of our early strength even in old age.
Cicero (106 BC-43 BC) Roman orator and statesman
What would you rather do, walk and chat with your grandmother 30 min. 3 X a week or visit her in a nursing home several hours on Sunday and Wed? Up to you........
EGRAMMY