Well, so far WW is going awesome. I actually went down a pound on my second weigh in, even though it was only Tuesday (we did our first weigh in when we joined on Saturday), and it was late in the day as opposed to morning.
We went camping last weekend to a small campground right in the middle of my hometown. We would have liked to go to a provincial park, but they were all pretty much full, and this campground was right down the road from a friend's place where there was a party going on for another friend of mine (she's been teaching in China for the past year and is returning to teach there on the 20th of this month). Quite frankly, our campsite sucked, but as we are now determined not to let stuff like that ruin a perfectly good weekend, we made the best of it - and it worked.
We drove out to a conservation area that has caves, "kettles" (
en.wikipedia.org/wiki/Gi
ant%27s_kettle
) and hiking trails , and explored the caves a bit before hiking out to see the kettles, then doubling back and taking a separate 4km trail out to a lookout. I've been there before, Jaime hadn't, but I got her into a few caves with me as well.
There is one cave, however, that has always, always been a bit of a personal demon of mine. No matter how many times I went there, I couldn't do this one cave. There were a couple of reasons: 1) I'm afraid of heights, and the steep (albeit short) climb down a slippery limestone drop into the cave scared the living daylights out of me, 2) The cave has a very narrow opening, and I had a very real fear that I might get stuck in the opening to the cave. Since I was usually with a group (at one point we took the kids from the summer camp I worked at there, and I went as a kid with my own Girl Guide pack), I really didn't want to try it and get stuck, or try it and embarrass myself by completely freaking out over the drop. On Sunday, however, it was just the two of us (there were lots of other people around, but I waited until no one was at this particular cave before trying it), and I decided to give it a try. The result:
About to make the leap.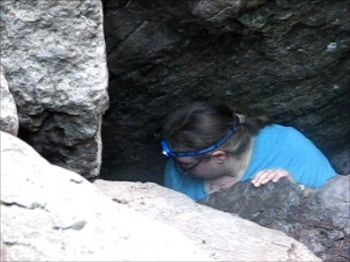 Almost in.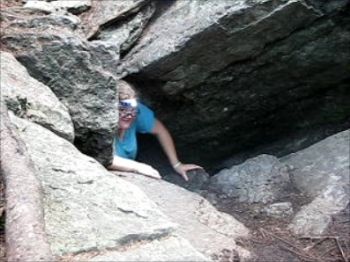 On my way back out.
I did it!!! I can say, with certainty, that a year ago, I would have gotten stuck - no ifs, ands or buts about it.
On Monday, we hung out at the camp site and took it easy, as we were both a little sore from all of the hiking and climbing.
On Tuesday, I had taken the day off, because I had a couple of doctors' appointments (also in my hometown) - so we tried to turn it into one last vacation day by doing fun stuff in between. I went to my first appointment, which was with my GP, and it went really well. We even talked about the possibility of me trying to get pregnant next fall, which, with the changes in my health, she is actually in favour of. Next, we went to the zoo (it's a free zoo, it's awesome) and walked around for a couple of hours. Finally, our last stop before driving home was my endocrinologist's for a diabetes check-up. Good news all around there: My A1C, which at one point was almost 12 (target is 7) is at 6.5. My blood pressure, which has registered in the past at 195/110, was 122/68. My LDL (bad cholesterol) has gone from 2.6 to 1.89 (should be below 2) and my liver enzymes are reading normal. My only issue now is that my HDL (good cholesterol) is low. Never thought that low cholesterol would be an issue for me. The doctor is blown away. He can't believe the changes I've made - in fact, he couldn't even think of anything mean to say - and trust me, with this doctor, that's unusual.
When we got home, we had a Weight Watchers meeting - the result? Each of us lost 3 lbs. On vacation. WHAT???
I'm not happy with the pictures of me over vacation, but slowly I'm getting there.