Saturday, August 06, 2011
Today was an awesome day!It was just so incredible to meet Beth in person. I picked her up at the train station in Providence and then we went over the Providence Expo center so she could register for the race. It was amazing to find out that with when she attaches this red tag to her running shoe they will be able to scan it and read her race time.
We did some shopping at the Expo and I bought an XL top that has the Rock N Roll logo on it which I will wear tomorrow. We had our picture taken at the Expo and wanted to share it with you.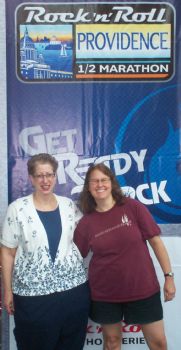 Then we went to lunch and had a wonderful time chatting. I showed her some of my other pictures of me when I was so much bigger (about 35o pounds). She asked me how I managed to loose all this weight and I chatted a bit about that (prep for my talk).
I will meet her again tomorrow at the finish line and then we will have another picture taken of us together!
I wish all the White Tigers could have this experience of meeting someone you feel like you have already gotten to know. It was just so incredible!