Wow! August already!
Big Highlight of the Month:
I AM GETTING MARRIED! WOO HOO!!!!
I am so excited for my wedding at the end of the month. hehehe
As it is the begining of a new month, my Turbo Fire/Chalean Extreme schedule took a big change this week and added in the Lean Circuits from ChaLEAN Extreme.

Holy cow! I am sore everywhere! It hurts to lift my arms up. It hurts to walk. hahaha....every muscle is getting worked....and I love it!
In fact, I have to say after Lean Circuit 1, which focuses on biceps and triceps primarily, my arms looked ripped! It was awesome! My hamstrings are a little tight so I added in a stretch workout to help me out. Oh my muscles were loving the stretches.
Today I did Fire 60 Class and Abs 10 Class. Love it! Because of the heat I am doing my workouts in just my capri workout pants and a sports bra. So I can see my ab definition in the reflection of the TV...and because I can see it I have become more conscious of having my abs held tight while doing the moves. And it's causing my abs to get a huge workout. Man...those front kicks....actually all the kicks!...work my abs like mad!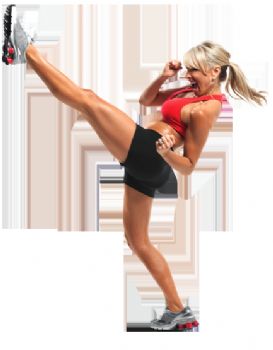 The front kicks work the main part of my abs, and my obliques are getting a killer workout with the side kicks.
When I do Abs 10 class in my sports bra I can actually see my muscles contracting. It's really need and has been helping me work my abs much more effectively. I know what to look for and what it feels like when I am doing the move correctly.
This weekend I am meeting with the photographer at our photo site location to go over where I want to have the photo's taken...since it's a huge garden.
Next week is super busy! I have to meet the coordinator of our ceremony and reception venue. I have another dress fitting...well this is just to make sure the alterations are correct. I have a hair appointment to get my hair cut and highlighted. Have a bachlorette type event. And we have hair trials so we can determine how we all want our hair and make-up and how long it will take. Then we know when we need to begin on my wedding day.
So I am super pumped. It will be a busy but fun week. Thank goodness I am a morning workout person! I will get them all in for sure!