It's been a while, no?
I must admit that I was having quite a tough time in June. It rained almost the entire month, but yet was hot and sticky. I didn't do much running. I did participate in a 5k on June 23 in which I had to walk about 1/4 to 1/2 a km because the heat was just toooo much. I had a time of 38:16. Not too bad for having to walk a bit.
This week I really got back into the swing of things. I've ran 3 or 4 times and went swimming once.
My neighbours recently got a puppy. Their older dog had passed away from cancer, so the husband bought his wife a new puppy pit bull. The only problem is that his wife is terminally ill (but at home) and she is having a very hard time taking care of this dog. The puppy is hyper and not at all what a 75 year old woman should have to take care of. When I say 75 I'm underestimating her age for sure.
The other night the wife called me in tears because she was ashamed for yelling at the dog so much. She is just not up to the challenge of raising a puppy.
So I've offered to start taking her dog for runs with me. Yesterday we went 4km and the pup was semi-tired when she got home. I can imagine she has a lot of pent up energy she needs to get rid of. I'm going to try and take her for a run once a week. I do have my own dog, who is very active, that needs to come first for me.
The bonus is that I get to play with a puppy a lot. lol She's a blue nose pit. She has a blueish/grey coat and her eyes are almost the same colour. She really is so cute.
As for my eating...meh. I need to cut out the simple carbs. I seem to be eating way too much junk lately. Chips, popcorn (with butter), white bread. Boo!
This needs to stop. It makes me bloat like crazy!
I did get a great recipe for black bean burgers. If you are vegetarian, this is a SCORE! The only issue I find is that these burgers tend to fall apart, but if you are careful, they are a great alternative to a beefy burger.
1 can of UNICO black beans (strained and rinsed)
1 small onion
1 small bell pepper
1 tsp cumin
bread crumbs (enough to aid in forming patties - about 1 slice)
worchestshire sauce
Mash the beans until they are the consistency of ground beef (see pics).
Add the other ingredients and mix with hands. Form 4-5 patties. In a frying pan with high heat, lightly fry each side of the patties for about 2 minutes. This helps keep the patties in form.
Toss the patties on the bbq if you wish, but remember, they don't need to be cooked for too long. Dress like a burger and VOILA! You have a black bean burger!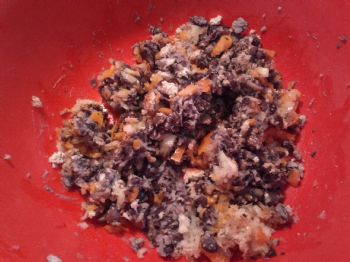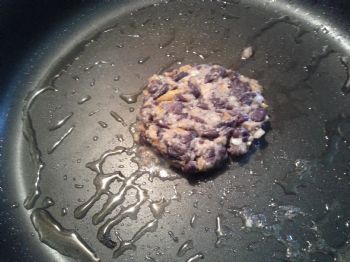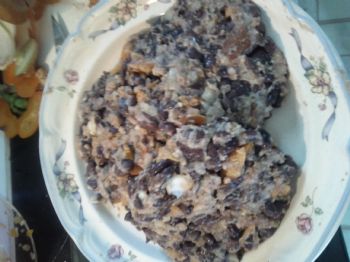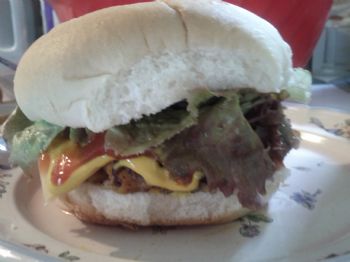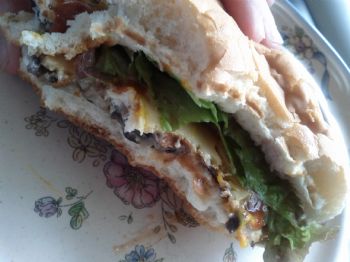 I added fresh lettuce from my garden and a cheese slice. I did have a bit of light mayo on this one and a white flour bun as they were the buns that we had on hand. It looks like there is a lot of olive oil in my pan, but I use a piece of paper towel to spread just a little bit of the oil in the spot where I want to fry the patty. The rest of the oil is refuse.
Hope you like them!