I meant to blog about this Saturday, but havenít had a chance until now. Saturday is weigh-in day for my 5% Challenge Team. I confess to a little nervousness each week. But my happiness/attitude is no longer determined by the scale, so itís not so bad. Until this week--this week--I made a horrifying discovery. I still have some PreSparkSkeletons in my closet.
Remember All or Nothing Girl? The PreSparkShelli who would quit, if she messed up the slightest bit? Well, it wasnít her. Sheís doing a good job of staying banished to somewhere outside my calling area. No, this was someone Iíd almost forgotten about. Someone far sneakier and way more subtle. This chick totally flies under the radar and is only visible if you use your peripheral vision. She is Saboteur Shelli and sheís nuttier than a fruitcake, which is saying something, considering all the possible Shellis available.
Saboteur Shelli appears when Iím close to a weight loss goal and she convinces me to sabotage myself. Sheís so clever about it, I donít even realize sheís there, until itís too late. Hereís the set-up, I squeaked into Onederland last week. I knew it was hit or miss if Iíd stay there this week, but I wasnít too worried about it either way. At least, I didnít think I was. But you know what Saboteur Shelli did?? She slowly and quietly convinced me that there was no way I could stay in Onederland, so I should go lax on the freggies, munch a couple extra bites of SunChips, be sloppy about tracking, eat lots of sodium the day before. Why should it matter, since I wasnít going to make that goal, anyway? Might as well make sure it didnít happen.
WHAT?? What the heck kind of logic is that?? Iím not a genius, but I donít consider myself an idiot. Sadly, she worked her voodoo magic on me and I fell for it. As a result, I gained 2.2 pounds last week. Fortunately, SparkShelli was still strong enough not to freak out, not to speed dial All or Nothing Girl, not to (shudder) quit. But I had to stop and think about what happened. Itís so bizarre. And the really bizarre thing is, Saboteur Shelli only shows up around weight loss issues. Thatís it. She stays out of my family, career, education, everything else. She seems quite happy for me to be successful everywhere BUT weight loss. How strange is that? Iím sure thereís a deep, psychological explanation, but I have no idea what that might be. Hereís one thing I DO know. If she only shows up in one area of my life, then I only have to kick her out of one area. So, Iím summoning all of my Super SparkGeek powers and going Green Lantern/Orange Spark on Saboteur Shelli, kicking her bootie all the way to the Lost Sector on the ruined planet Ryut.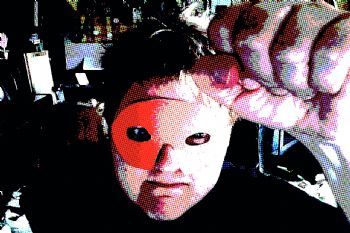 In brightest day, in blackest night, no weight loss goal shall escape my sight. Let those who sabotage my fight, beware my power, SparkPeopleís light!
(Itís possible Iíve seen too many summer blockbusters lately, considering I just masking taped an orange construction paper mask to my face and posted it online.)