Saturday, July 30, 2011
For the new INSPIRE challenge, I'm supposed to revamp my sparkpage. At first, I was feeling reluctant to change my background image. Using this silhouette image has really helped me to grasp that the changes I've made are significant. I'd been downplaying how far I'd come, but I couldn't deny this image: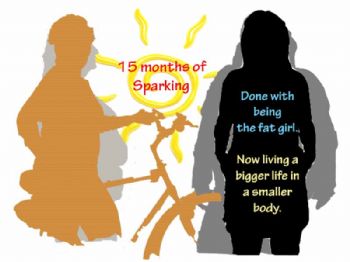 So I started thinking about other ways I could show that difference.... A background to remind me, daily, that all these healthy choices add up to big changes. This is what I came up with:
UNCOVERING AND DISCOVERING MYSELF
The left side is Nov 2009. Not sure how much I weighed, but I'd guess 240-250. The right side is yesterday, at 177 lbs. The images are 100% to scale... but look at where my chin is now compared to before. Isn't this the craziest image? I am completely staggered by it.
I remember looking in the mirror around this time and being so unhappy with my face. I felt like a stranger was looking back at me. I didn't barely recognize myself. As I lose weight, I feel like the real me is being revealed more and more.
Now I'm happy the challenge pushed me a little bit. I'm just as in love with this image as the last one & now I'm thinking about what other kind of artsy kind of projects I can do in the same vein. I will, of course, keep you updated!