I'm not a big believer in covering vegetables with heavy sauces and dressings. I think vegetables have plenty of flavor and those flavors don't need to be masked. That said, I'm also a big fan of Tzatziki; it's awesome! Of course the lowest calorie way to eat tzatziki is on raw veggies. Dilemma.
Of course, another part of the problem is that most recipes for tzatziki call for sour cream, which is fairly calorie dense. Because I'm not willing to trade chemicals for fat, I use regular sour cream, adding even more calories with every dunk. What's a weight-losing girl to do?
This weekend I made a lovely light tzatziki-style dip with lowfat plain yogurt (6 oz), minced garlic (one clove), dried dill weed (1/2 to 1 tsp), and a little S&P. Yum! Yum! Yummy! I think the secret is to use a tangy yogurt. So many of the plain yogurts on the market today are bland, bland, bland. With a tangy yogurt, you don't need to add sour cream and its extra calories to the mix.
As I am a hypocrite, I dipped and dipped and dipped raw veggies into the yogurt dip and now it's almost all gone. I didn't miss the sour cream one bit.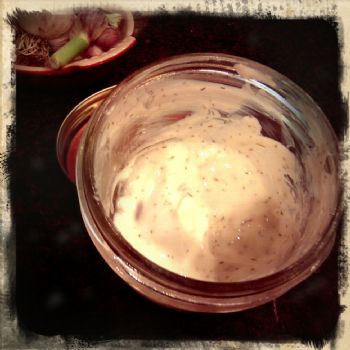 Variations:
Add in some chopped, peeled, seeded cucumber. I would have added this if I had some on hand.
Try different plain yogurts -- Lowfat or nonfat, regular or greek. Look for something with a little tang. (Do NOT make this with Tillamook's new plain, lowfat yogurt. That stuff tastes like thick milk -- no tang whatsoever. Not even a hint of a tang.)
Add in some minced mint or substitute mint for dill.
~~~~~
I would write more, but my dog has repeatedly told me it's time for her daily walk.
TTFN!