Wednesday, July 27, 2011
Got to use all the tools in the tool box. Tonight I'm blogging instead of snacking. Also did some housework. Took the dog for a long walk.
I was an unusual smoker. Didn't smoke all day long and then chain smoked at night. I quit last November - and I've been battling the evening snacking ever since. It's not rocket science to see I've swapped one bad habit for another.
Maybe our new internet service will help. I don't eat when I'm on the computer & this new mobile internet is 100x faster than the old one. I'm so excited! No more 2 minute waits while a page loads or having to refresh it 8 times.
Just in time for me to start tracking food again. Tracking gives me just that exta push towards making good food choices. Maybe if it doesn't take so long, I won't spend so much avoiding it.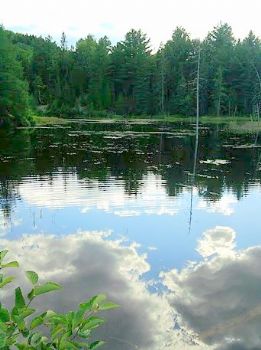 Here's a picture I took at the swamp today. Thought the reflection in the water was very pretty.