Ok, I have always hated having my picture taken, and I still do. It isn't so bad now, though, because I feel a little better about the way I look, and because I want my kids to have pics of me in their scrapbooks.
I started Spark People on November 4, 2010. I weighed 217 pounds. Honestly, that was down a bit from my normal 220. We had decided to build a pool, and I had been motivated to watch what I ate because of that. As I look back through my digital pics, I find few of me. DH took some pics of me on our trip to Yellowstone last summer. And now for the before shots: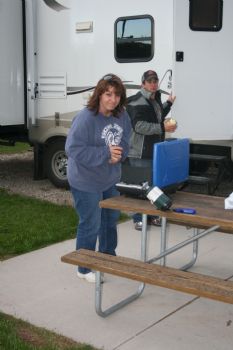 This was my favorite sweatshirt. A 1992 Eskimo Joe's Christmas sweatshirt. It was the biggest I owned, and I loved it!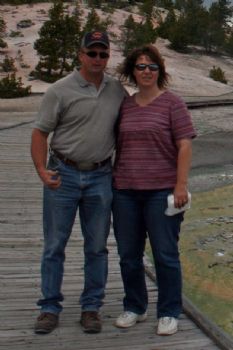 This is Charles and me in Norris Basin in Yellowstone. See that shirt? It has a tag in it saying it was manufactured in 2003. This pic was 2010. I hated shopping!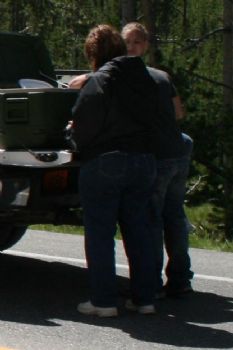 This one is kind of dark, and I hope you can see the pics I cropped. But, we were waiting for traffic to move somewhere in Yellowstone, and got out for a snack. Such a nice butt shot! Thanks, honey! And the last one is of me and DH in Jackson Hole, WY.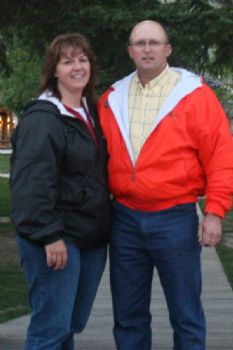 Look at how fat my face is!
Now, here are today's pics. I have had a pair of teal Rocky Mountain jeans since before my oldest was born, but haven't worn them since I was pregnant with her. I don't know how they made the move to our house, but I found them a while ago, and kept them. I've been trying them on periodically. When I first started with SP, I couldn't get them past my thighs. But 50 pounds down and I can actually get them on, and zip them up without laying on the bed to do it! Here they are:
Can you tell I just got done with my fitness minutes today? Anyway, NO muffin top! (Just a seriously white tummy!) And, another pic, this one of the latest capris I bought this past Sunday. Kohl's didn't have any 12's, so I tried on a pair of 10's, and though they were a little tight, I didn't feel uncomfortable wearing them. AND I plan on dropping some more pounds.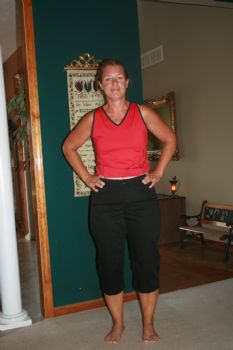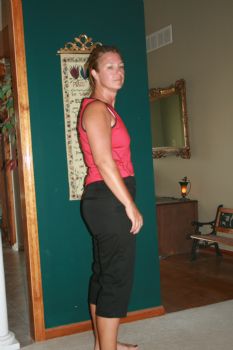 So there, Teresa and Lisa! Are you two happy?