Monday, July 25, 2011
I've been avoiding the picture blog because I have no idea how to define myself with a picture. I have no clue how to define myself at all really. Do I put a picture of me? A picture of things I like? A picture of me doing something that makes me happy? Well, honestly I really don't have many pictures to choose from anymore. For some reason, over the past few years, I've stopped taking pictures. I have lived in some of the most amazingly beautiful places in the world, and traveled to others, and I just don't ever take out the camera anymore. It some what started after one of my first trips when I came home and realized that no one really cared to see them anyway. At that point I decided that the special moments were good enough for me and just me. Obviously I don't think that anymore, because now I would really like some pictures to choose from.
I don't really know if this is related but lately at night before I fall asleep, I try to relax by thinking of things that calm me down. I try to think of good memories. And lately, I've been having trouble. It seems like all of my memories just stress me out and make me feel bad about myself. I can't figure out if I'm just having a mental block or if there is something seriously wrong with my brain. I haven't done anything I'm truly ashamed of. But I can't think of things that make me feel real good about things either. Why is that? I'm not really a negative person. Hmm...anywho...just wanted to spew that out...
So here is a picture that "defines" me, as much as any picture can. It is a picture from my dad's front yard. On the right side there are branches from a giant magnolia tree that reminds me of my grandma, my dad's mom. I don't remember why it reminds me so much of her, but it does. I love that view because it is one of the only places I've ever been that has felt like home. Every time I'm there. No matter what is going on in my life.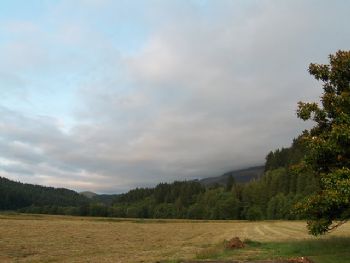 Day 12 - A picture that defines you
Day 13 - A picture of your favorite band or artist
Day 14 - A picture of you now
Day 15 - A picture of something you want to do before you die
Day 16 - A picture of someone who inspires you