Monday, July 25, 2011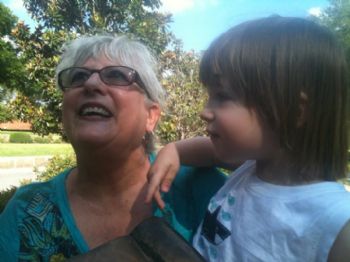 Taking a trip or vacation can be healthy and good for us. It can also make us appreciate the familiar and routine. I've just returned from a five-day trip to my daughter's home. While there, I got acquainted with my two-year old grandson, survived unbearable heat, ate Texas style food, saw and experienced a little of the world my grandson and his mom and dad live in, and had a great time. Everything was only vaguely familiar and certainly far from my Northwest routine. Traveling to their home gave me a glimpse of what they are doing as a family and how their lives are influenced. I love having this personal window and can come home with new memories and understanding. It was both exhausting and exhilarating to spend the time with them and be a Grammy if only for a short time.
Needless to say, I missed the routine and was anxious to dive back into my world, complete with the bed, moderate NW temps (even the rain), and the new habits I am developing on Spark People. I fully expected to have a gain. Computer access was not available, so tracking was only in my head. I tried to stay on the healthy end of the spectrum, but getting enough water in while it was pouring out faster than a geyser at Yosemite was next to impossible. Exercise was also hard--no long walks in the moderate Northwest. While we were outside, I couldn't wait until the next AC stop to beat the 100+ temps. This week will be one of recovery and getting back to the familiar and refocusing on the good habits. I'm actually looking forward to tracking and getting all my water in. Tomorrow a long walk awaits. I want to thank SP for helping me appreciate my new good habits and wanting to restore order to my world.