This weekend was a good weekend. Spent time with my dad's side of the family and I haven't seen them in quite awhile. Went down to Salix on Friday since Jeremy had to work. Was just my dad and his girlfriend and my aunt and uncle the first night. Planned on going back home and doing something with Jeremy and the kids on Saturday. Then my dad told me a whole bunch of my family was going to be down so I talked to Jeremy and I went and picked him up and brought him down to spend time with the family.
This is a picture of my dad and the kids. It was just us there at that point.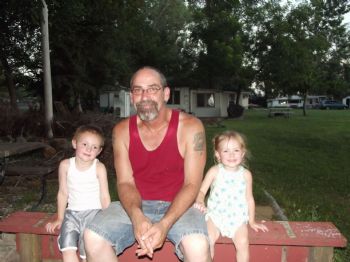 Our campfire. Levi and Exandria helped put sticks and boards in too. They always like to help grandpa.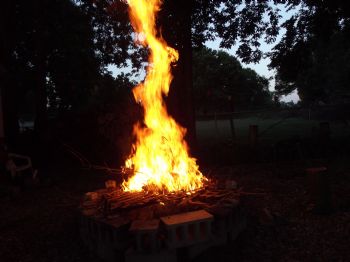 We had alot of fun. Drinks, water gun fights, swimming, campfire, good food, socializing with family, and then really late night swimming after our kids went to bed. It was a blast. I hadn't had that much fun in a long time. It was nice to just let loose and not worry about a thing.
Got home and got ambushed by the cat. She seems pretty attached to me. We've only had her about a week but she loves to come cuddle up on my chest and go to sleep. If I don't let her then she keeps meowing at me like crazy.
This is her exploring inside of the entertainment stand. She's a cute little thing. Her name is Misty.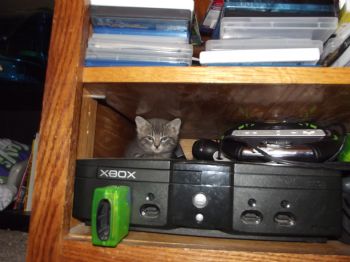 It was nice to get out.. but for some reason as soon as we come home it's like there is immediately a tornado that goes thru our house. So tonight our house is a mess. I have no intention of cleaning it tonight because I am just relaxing and enjoying some a/c since it's been a couple days without it. Very hot out to say the least but it didn't hurt to be out in it a little bit. I don't quite feel fully relaxed because the house is messy. Always gets me down a little when it's not clean but I figure I'll do it tomorrow and then everything will be better.
I've been thinking about school and getting anxious to start. This will be my first year of college. Going for Criminal Justice. My plans are to shoot for the Dean's List. I know I can do it. Just have to focus and study hard. I know it will be hard but I will make the time to study and do homework to make it thru college and get going on my career. That is one of my biggest goals right now, to finish school. I want to feel like I am contributing to my household and help provide income to support them. As of right now I am just a stay at home mom. It's alot of work, but just doesn't feel like I am doing enough in my own eyes.
One thing I'd like to vent about.. Thursday I decided I was going to take the kids to the lake to swim. Jeremy was really tired and had to work that night so he stayed behind to get some more sleep. I got out to the swimming area and was walking down to get settled when a guy started mooing at me. Knowing that if I acknowledged it, they'd know that they got to me, I ignored him. And then the girl with him started saying it to me. At that point, I really wanted to say something witty. There was a million things I could have said to them. Including some not so nice ones. I am just better than that. I ignored them. I didn't even look at them to acknowledge that they were there. I kept talking to my kids and decided it wasn't going to ruin my day. It did get me down for a few days tho. I cried alot for 3 days.
Then I decided that it didn't matter what they thought. Yes, I am overweight. I don't deny that. I am working on changing that. I just thought it was immature and rude. I told my husband about it and he was really upset. He told me that nobody should have to hear that, no matter how big they are. And he told me that he loves me no matter what I look like. He is really supportive of me and I appreciate him so much. There is no way he could ever understand how much I love and appreciate him. He is my rock and I am glad he has always been there for me thru the hard times in my life.
On that subject I prayed for the others that may be victims of these people and other people's rude comments and prayed that they never let it go to their heart. It's bullying. And it could cause someone to commit suicide if they are down enough. It's not fair to anyone to be subject to that. It makes me want to do something to get involved to show people that it's not ok to say things like that. But that leads me to today's quote. It just seemed fitting.
Today's Quote: No one can make you feel inferior without your consent.
Eleanor Roosevelt