Friday, July 22, 2011
Yesterday after I wrote my blog about being discouraged, I decided I needed to look at the big picture. It may not feel all that successful at the moment, but I'm not completely unsuccessful. I've come a long way! I'm a few pounds shy of having lost 50 pounds. THAT is an accomplishment! It may be taking some time to get there, but I AM getting there. It's weird looking at that number and the pictures from before, because I don't feel like that was really me. I was never a "big" girl, but I let things get the best of me and from there the emotional eating took over. I guess that's just life though... we live and learn.
But anyways, my whole point of writing this blog is because yesterday when I was reflecting on how far I've come, I realized that my side by side progress pics were from 20 lbs ago. It was time to fix that!
I should note that I didn't take my before pics at my all time high. I lost a little all on my own before hopping back on Sparkpeople, which is when I was at 177. That is why the picture (and my tracker) reflect that weight.
Front view: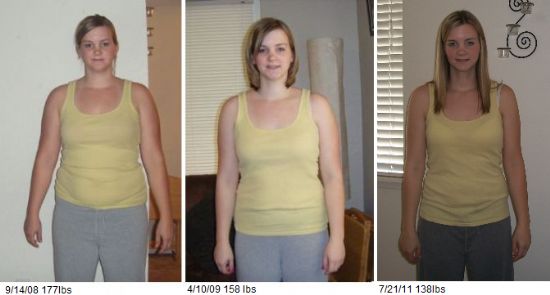 Side view: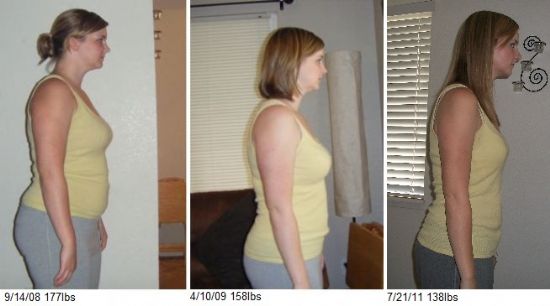 I was worried when I took the pictures yesterday that I wouldn't really be able to see much of a change, but it is definitely noticeable to me in the front view picture. I don't feel like it's as noticeable in the side view picture within the mid section (when comparing 158 and 138), but I definitely see how much smaller my arms have gotten!
I'm glad I decided to update those pictures yesterday. It really put things in perspective for me and I don't feel as discouraged now. Sure I wish these last 10 pounds were easier to lose, but I just need to stick with it!