I found out this week., yet again, the value of Chair Exercise. I know that many people poohoo it – saying you can't possibly get a proper workout by sitting on your butt!!
Don't you believe it!!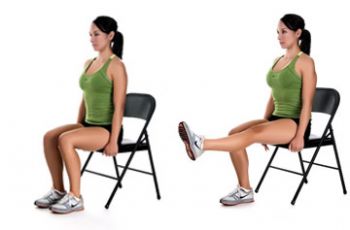 I have just started back at Curves after having an enforced 4week break – as a result of a cataract operation.
When I was told that the surgeon really would prefer that I stayed away from Curves for 4 weeks, my heart sunk!!
I had been working very hard – doing a double circuit against the computer, and also doing Zumba and Super Strength classes. I had dropped another size in clothes and had increased my strength, flexibility and stamina substantially in the month before the operation, to the extent that I had progressed to Intermediate level on the computer.. I had also just dropped my weight to a long held goal!!
I was sure I was about to lose all the gains I had made – so I decided that I was going to fight to keep those hard won gains!! (or losses!!)
I got out all my Chair exercise DVDs including the 5 new ones that needed reviewing for the Chair Exercise Team, and worked out a weekly program - - doing both aerobic and strength work. I was expecting to lose some muscle tone as working with hand weights isn't the same as working against the computer with hydraulics.
It should be said here that I also used a Zumba Basics DVD about 2 times a week for 20 mins each time – as I wanted to continue some weight bearing exercise as well!! Well the specialist did say "gentle exercise" was ok – and that is open to interpretation!! My efforts at Zumba are definitely fairly gentle though!!
The bulk of my exercise was very definitely the Chair Exercise though!!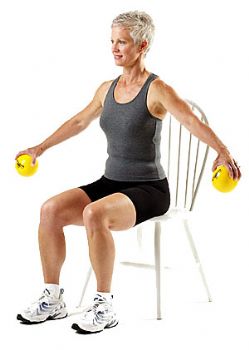 Well, I started back at Curves yesterday – I logged in and was immediately grabbed for a weigh and measure!! Aggg!! They wouldn't even give me a week to try to reduce any damage!!
First the scales – I was down 0.4kg – OK- not much but hey!! Better than going up !! Then measurements - - down on bust, up slightly (1cm) on abdomen – the rest equal to the previous measurements!! Then the BMI – down slightly!! So far so good – but the real test would come when I worked out – could I sustain a double circuit and a Super Strength class back to back?? Well – the answer was Yes!! I had lost none of the energy and stamina that I had before!! Then the computer reading –again – I didn't progress on any machines – but I held the same level as I had the day before the operation!! And I am not sore or stiff either – partly because I spent extra time stretching afterwards and made sure I drunk extra water!!
So doing those Chair Exercises allowed me to retain my hard won fitness level over the month The staff were amazed that I could do it – that I had done it – but no-one was more pleased than me!!
So yet again Chair Exercises have proved their worth – they got me started on exercise – they started my incredible inches changes and I still use them between visits to Curves to keep consistency in exercise, and now again they have proved their worth by helping me keep my weight stable and my strength the same!! I thank the day I was directed towards them!!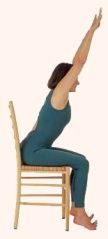 –If any of my readers are interested in learning more – for what ever reason, be it temporary or permanent – then come along to the Chair Exercise Team – the friendliest and most supportive team in Sparkdom!! And learn more about Chair Exercise Ideas!! We are a very active team, with several challenges running all the time, several changed weekly, and with a great team of leaders who have together lost –about 185kg or 407lb to date, and are or have been mobility limited and therefore understand the problems of exercise with limited mobility, whether it be from obesity, injury or a permanent handicap., and, of course, Chair Exercises are great for working people too – they can be used in the lunch time or at a break to help you stretch and relax from bending over your desk, and to help sneak in that little extra bit of exercise!!
We can be found at :
www.sparkpeople.com/mysp
ark/groups_individual.asp?
gid=32265