I just lost my blog TWICE when adding the last picture for a Jack LaLanne challenge, created by Diane aka Lopeyp in the By The Numbers team.
It's an awesome challenge, and we could use some alternate members. *wink *wink*
www.sparkpeople.com/mysp
ark/team_messageboard_thre
ad.asp?board=8110x26785x43026697
(Seems like Spark doesn't support Chrome or vice versa)
So I am going to be fast (& furious?), and make it short this time as I need my sleep.
VELOUTÉ DE COURGETTES À LA CORIANDRE FRAÎCHE
(translation, please : Cream of Zucchinis with Fresh Coriander)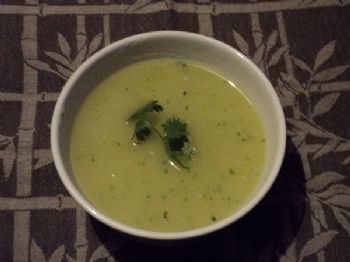 Ingredients for 2 :
500g of Zucchinis
2 medium potatoes
1 bunch of Fresh coriander
1 liter of water
Directions :
Peel the veggies, and cut them in chuncks.
Begin to cook the potatoes in the water during 10 min, then add the zucchinis, and cook until the veggies are no longer firm.
Add some coriander at the very end (no need to be cooked), and use your blender.
Taste and add more coriander if needed.
This 'velouté' can be eaten warm or cold.
And for dessert, nothing can beat organic strawberries from our garden.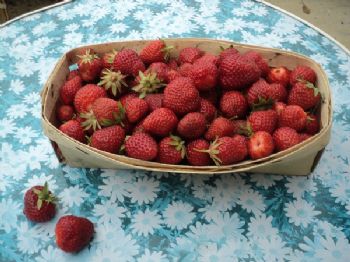 Two pictures or two squares for Debbie who wants to see my garden.