Wednesday, July 20, 2011
So my parent's 40th anniversary is coming up next April. I decided that I want to make them a quilt for their gift, something special. So I picked out a quilt block called "Love in a Mist" which is pretty and the name of the block is fitting. They are still just as much in love (or maybe even more) than the day they got married.
I started work on the quilt last night, as it will probably take me a while to complete it, what with all the other projects I have going on. I got most of the fabric cut out (I'm actually using two sets of king-size sheets that used to be theirs, which shrunk and didn't fit their bed anymore). This is definitely going to be a labor of love on my part. I have to make 864 half-square triangle pieces: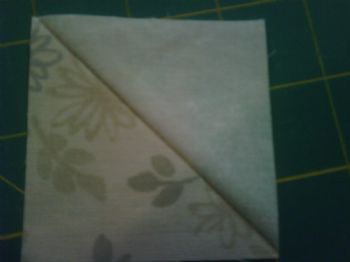 Yes, you read that right, 864 of these things. They are 2.5", unfinished size, for a 2" finished size.
Here is what one finished block looks like: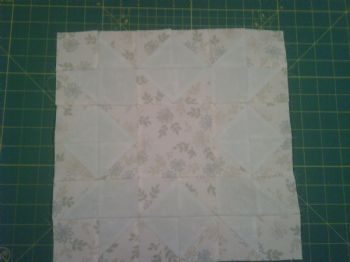 I will be making 36 of these, for a quilt that is 6x6 blocks, and it will have a border and binding of the green/blue fabric, and the flowered fabric for the backing.
My aunt will be quilting it for me (she has a long arm quilting machine) and is going to do a random swirling kind of pattern, with the word "love" mixed in throughout in multiple languages.