Sunday, July 17, 2011
Good morning! I hope everything is having a great weekend

Today is Day 10 of my 30 day Vegan Pledge. I managed to survive staying on track since my husband and I went to settlement for the house on Wednesday. We have been taking down wall paper in the basement and then did some yard work yesterday. We have been going to Wendy's, Burger King and I survived that. I got salads without chicken or cheese. I ate baked potato from Wendy's and got onion rings from Burger King along with the salad.
Yesterday was a different story. I was STARVING by the time we finished things yesterday. We went to pizza hut. I was going to get my half of the pizza cheeseless with onions, green peppers and pineapples. That didn't happen. I got the chicken supreme and a side order of buffalo wings.
Well, it felt good going down BUT this morning for the first time in 23 days of not eating meat and almost 6 weeks of not having dairy products, I had sinus congestion in one nostril! There it is...it's true! I know from research and reading that my body is thinking of certain foods as toxic and is trying to help me but it's just not worth it. I only had 1 slice of pizza and 5 wingettes. Not worth it at all!
I'm back on the wagon. Starting tomorrow, the contractors will take over the house over the next 3 weeks. The sellers paid for the major problems that failed the home inspection. This is a true blessing and I'll keep you all updated!
Have a great week if I am unable to sign in! Getting ready to go back to the house to put moth balls down. I have woods in the backyard and saw deers in my neighbors yard eating the other day. I plan to put flowers down that deers aren't attracted to, but the moth balls will help keep snakes away. Talk with you soon!
Oh...here are a few pictures of the house! It's a split foyer which is something I always wanted and dreamed of having. I wish I had more pictures but I do not at this time.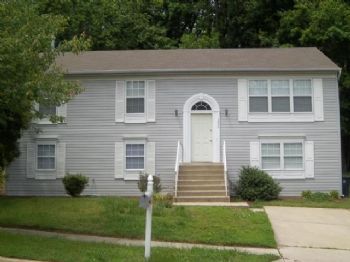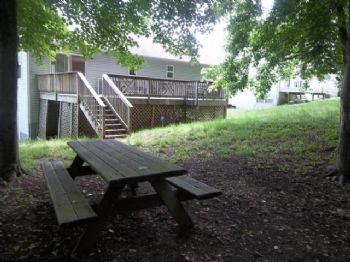 This is the basement with green wallpaper everywhere!