Monday, July 11, 2011
And I don't mean back on a horse

5 little days is all it takes for me to blow it, which are closely followed by another 5 days thinking "why did I do that?" 3 pounds is what I get.
Hetch Hetchy was beautiful. We have been told that its canyon/valley was once more beautiful than Yosemite. That is until water filled it up. Was enlightening to hear about the history, and the age old battle to control water rights. We heard that 2 men (doctors) were swept over one of the falls just a day or 2 before we got there...1 body found. That is indicative of the quantity of water run off in the sierras. Wild.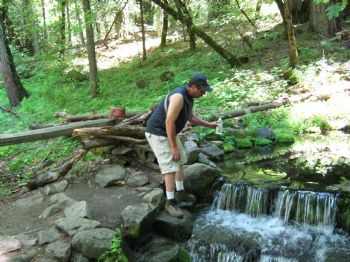 we drank the clean cool water from this "Spring of Life"
Our day in Yosemite was wonderful. Once again full waterfalls (extra ones from the usual) and a raging Merced River. Only one downside...the mosquitoes ate me up!

We got wet standing on the bridge at the Lower Yosemite and this photo shows how magnificent the falls were.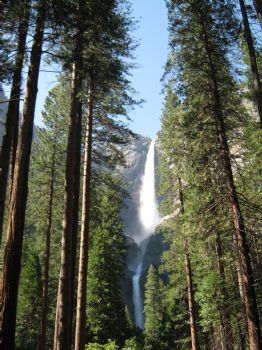 We got lucky and most of the crowds were gone by the 5th. And we walked all around the valley. Alas, no time for a real hike, but my nephew Jon had a surprise for me when we got back to Ripon...a really cool walking stick for future hikes. One of the things I must get back to.

All in all a pretty good time. It was blazing hot so we didn't cook much. Ate out with the exception of a big lunch the last day featuring fresh caught trout.

Yum Yum.
Looking forward to my next getaway...Northern Oregon with my buddy Judy. The theme will be (of course) wine tasting and scenic beaches. And I hope a few hikes. Maybe my nephew Jeff will take us fishing on the Columbia River.
Ciao!