I am love, love, loving the DIY Challenge - YOOVIE sure knows to mix things up and make attainable goals that you can still be proud of reaching! The goals for July 9th and 10th:
1. This weekend, you have to make and take a picture of two beautiful healthy meals you create, and upload the pic to Sparkpeople.
I am ADORING the beautiful fresh heirloom tomatoes at my farmer's market - the booth I love best is basically all tomatoes, around 20-25 different varieties of them! There are also lots of other fresh veggies to choose from, delicious salad greens, and gorgeous farm fresh eggs. Along with my raw milk, I feel like I'm eating like a farmer would - and I love it!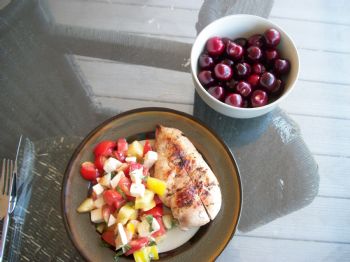 Meal 1: grilled chicken breast with a chopped Caprese salad (tomatoes, mozzarella, basil, vinaigrette) and cherries.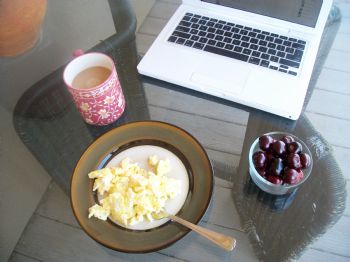 Meal 2: 2 farm-fresh eggs with goat cheese (I meant to add onions and peppers to these but totally spaced it), cherries (those babies are delish!), and coffee with raw milk.







2. Get in a workout this weekend that totally screams YEAH IM STILL ON BOARD! SEE! IM STILL FIGHTING!
On Saturday, I went to the gym and did the elliptical for 40 minutes, then some upper body strength for about ten. Then Eric and I did Week 3 Day 1 of C25K. However, that's not the day I'm really proud of.
YESTERDAY, all I wanted to do was run. I wanted to blow off steam and get some thinking done, and I wanted to sweat while doing it. The rec center was closed, so I mapped out three miles (1.5 out, 1.5 back) on runningmap.com, allotted myself 30 minutes, and took off. I didn't make the full three miles BUT in 27 minutes I ran 2.5. THIS IS A HUGE ACCOMPLISHMENT FOR ME! To run for the sake of running is something i have never been able to do. And yeah, it wasn't full-on RUNNING, I definitely had a lot of walk breaks in there, but the point is that I WANTED to go for a run...and I did. I even have a little 1-2 minutes of rest at the halfway point hidden in those 27 minutes.
So ultimately, my measly 30-minute run was me screaming YEAH I'M STILL ON BOARD! It may not have been multiple hours in the gym or running a marathon or anything crazy like that, but it DOES mean I'm still in this. Because if I wasn't, I wouldn't be craving a run...and then actually following through.







I'm not quite sure if I would call this weekend a success or not. I did discover something fun and new (Roller Derby!), get outside (if only to the dog park), and go for a run. BUT I also drank a crap-ton of beer and sat around more than I should have.
According to the scale, the last ten days have been in vain, because my weight hasn't budged. But I beg to differ. My tummy IS feeling and looking flatter, and muscles are starting to peek out again. AND the soreness I experience every day I wake up is a reminder that my body is being worked. In due time, it WILL change. Hopefully all the running I've been doing will give me legs like Yoovie someday. I can dream :)