Today's blog is about self-regulation and getting back on the right track. I've been eating out of my calorie range for a couple of days. Not unhealthy food, but lots of healthy food. One major culprit was some really good nine grain italian bread.
So in an effort to hold myself fully accountable today, I posted on my status that I was going to photo blog my food. This one small step kept me from derailing the train this evening. So here goes the day....
Breakfast - egg beaters, turkey bacon, baby spinach, fat free cheese served with one sliced orange and some blueberries. Black coffee.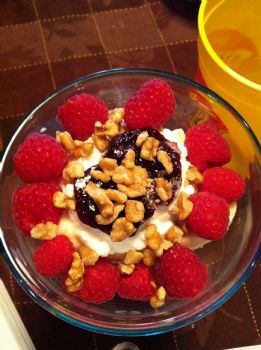 Mid-Morning Snack - Clean Eating Breakfast Sundae - 1/3 cup cottage cheese on half of a split banana. Topped with 1 T sugar free blackberry jelly, and 2 t chopped walnuts, and I put on some raspberries.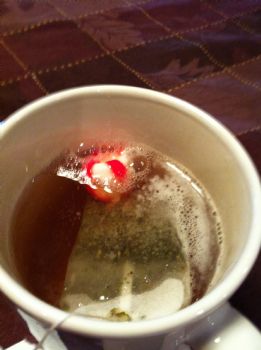 After snack - hot green tea with stevia and one soft peppermint for flavoring. I had one more of those mints later in the day.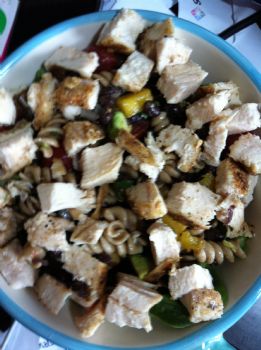 Lunch - baby spinach, mixed greens, 1 cup Clean Eating Salsa Style Pasta Salad, 4 oz cubed grilled chicken.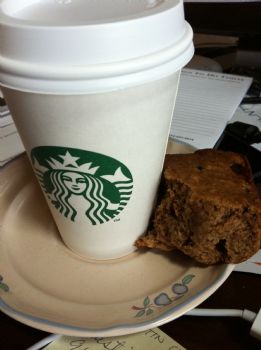 Afternoon snack - Tall non-fat latte with one sweet & low, cinnamon and 1 piece Clean Eating Dark Chocolate banana bread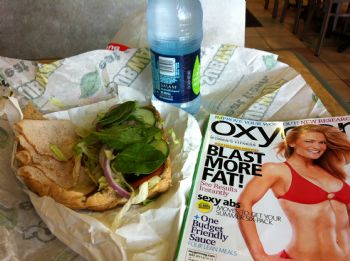 Dinner - Subway Turkey 6 inch whole wheat, all veggies, no cheese or condiments, salt and pepper with water and reading an Oxygen magazine.
This is the point where I almost derailed. At dinner time there was a convergence of things that made me tired, and angry. My daughter works at a Chicken Express and she brought home a large box of fried chicken. I didn't want to cook my Clean Eating dinner I had planned. I actually opened that box of chicken and touched a piece with my finger when I thought - I don't want to blog that! There was only one person home besides me - my 19 year old son who can fend for himself just fine - so I picked up my keys and magazine and bolted from the house. I enjoyed the peaceful environment at our small subway while I ate healthy and read. Afterwards I went to the store to pick up some more fresh fruit. I indulged in this which was my treat tonight...
YUM-O!
All my food is logged on my tracker and later tonight before bed I'll have my plain oatmeal with 1/2 T maple syrup, 1 t chopped walnuts, 2 T plain fat free greek yogurt, and some apple pie spice.
I did get in 37 minutes on the bowflex trainer level 9 for one mile today. I enjoyed about 30 minutes at our pool - walked to and from the pool and did some exercises in the pool..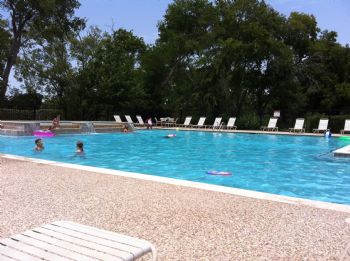 New in my shopping cart tonight was a new issue of Hers Muscle and Fitness and some plumcots - some hybrid plum and apricot -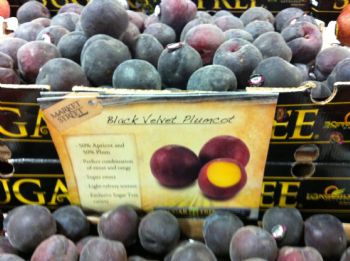 I did get in all my water for the day, and feel good about the fact that I was able to stop myself from eating bad tonight. I'm now going in the kitchen and prepping something new for breakfast in the morning from my new Clean Eating magazine.