Before & After Surgery Photos
Sunday, July 03, 2011
Sometimes, a photo speaks louder than a million words: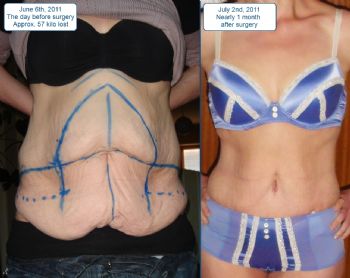 I'm still having the post-operation staph infection wound redressed every two days and I'm still quite emotional when I think about how ill I became with septicemia after surgery, but I'm also finally at the stage where I feel it was worth it. All of it.
125 lbs gone for good and likewise finally the unsightly saggy belly.

I'm never gonna have a swimsuit edition body, and there's still room for improvement, but I'm glad - very glad - I had it done.
And I'm forever grateful to SparkPeople for helping me get to the stage where abdominoplasty was even possible! Thank you!!