A captive eagle and me!
Friday, July 01, 2011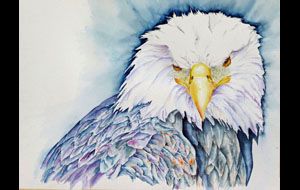 I paint in oils and watercolors. I began studying art at age 50. I have found that painting allows me to come to a 'quiet place' where I can be creative and at peace. The eagle so represents what I am trying to achieve with the Spark program. I took a photo of the eagle in Alaska. The bird was in captivity. When a bird is captive, his appearance telegraphs his lose of flight and freedom. A captive bird will have its neck short and its feathers 'puffed out'. A bird in freedom will have a long elegant neck and its feathers are sleek and compact.
Like a captive bird, I find myself often thinking that I am really not the person in flight due to mis-steps and poor choices. At 65 I would have thought I would have 'my act together'. Life is funny that way; the journey is filled with challenges. Challenges tell me that I can choose to be free of that which makes me a captive such as unhealthy choices. So I am looking to Spark to help me 'take flight' and soar through my golden years.

By the way, I titled the painting 'Compromised'