Friday, July 01, 2011
Today's blog entry was supposed to be about my favorite animal. What comes to mind immediately is the animal that has always been a part of my life--dogs. They provide unconditional love. It doesn't matter what their human is going through or what their human's mood is. This animal is always there, wagging its tail in happiness, ready to provide love and companionship.
While searching for a picture of my sweet shih tzus, I found this one and thought it appropriate for the season. Check the neck scarves.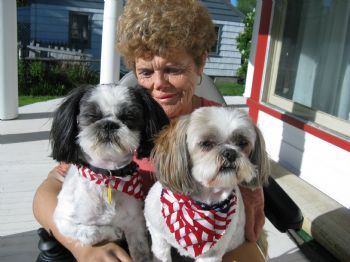 And then it occurred to me--THEY'RE NOT ANIMALS--THEY'RE MY KIDS!