First of all - my husband and I celebrated our first anniversary this weekend! On Friday we were surprised by our best friends (also our neighbours) who rented a party bus! We went to the city and had some fun dancing at the club. We never go out, so it was a great treat for us.
Then on Saturday we stayed the same hotel we stayed at right after our wedding. It's in a little fishing village which has some of the best seafood I've ever had. It was a great weekend!
On the flip side...
I haven't been losing weight.
I weigh myself on a weekly basis. I swear I haven't lost a lb since April.
But, the inches are falling off me that's for sure. I can't believe how slim my face looks in pictures now...and I'm not at all ashamed to have my picture taken anymore.
So, I'm going to give the whole "don't gauge your progress by the scale alone" speech.
I have to give myself that little pep talk every time I don't see the numbers go down.
First of all, my skinny jeans (actually jeggins) I bought not too long ago are too big around the waist now. I either have to wear a belt, or a really long, tight fitting shirt for the shirt to kind of hold em up. My thighs are still a little too big, but I'm hoping they will shrink in time. After all, I have been running a lot lately.
In fact, I just started hill training last night.
I ran up a small (steep) hill by my house 3 or 4 times, and back down. I jogged 3 km in the process and then up this big sucker of a hill...
(cameo of my doggy on the bottom left)
The hill looks a little less steep in this photo, but trust me, it's a HUGE friggin hill.
So after this 3k my calves were killin' me! But, I did the 3k and hills in 26 minutes! And, that's with frequent sniff and pee/poop stops for Molson.
My second ever 5k is coming up this weekend! We're going camping this weekend as it is Canada Day on July 1st so it's a long weekend. I have to get up and out the door by 7:30 am on Sunday to do the 5k, so I'm going to have to leave the campsite pretty early...which I don't mind because cleaning up after camping SUCKS! So I'll leave that to my hubby. lol
My goal for this 5k is to finish in under 35 mins! That's about 2:40 difference from my last finish time. If I don't make this goal I know I have to work on my speed and probably hills a lot more.
I have been using the micoach Adidas App on my phone, and an app called ENDOMONDO because you can put in a specific duration based on GPS. I love these apps while I'm running because the voice commands come in over your music and it tells you how far you have gone and how far you have left to go to finish your distance.
I have also been doing some biking lately. I bought this new ride at a yard sale for $10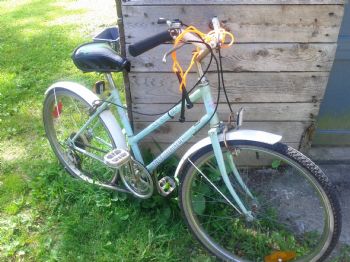 (That orange thing is a skipping rope)
See how awesome and retro it is? It has the metal tire guards and everything! The seat is very comfortable and has major shock absorber underneath it.
My husband is awesome and has put a huge basket on the front of it since I took this pic. So I can bike to the farmers market, get the vegetables and come home! Woo!
I just need a helmet now because my old helmet got ran over with our 4-wheeler.
Wearing a hockey helmet while riding a bicycle gets really hot. lol
I'm also getting my daughter a youth mountain bike for grading this year! She doesn't know about it yet so shhhh!!!
That's all for now!