Monday, June 27, 2011
Well, here I am on my birthday. I have lost 13 pounds since March 10th, and very happy that I reached a goal that I had set for my birthday. With all the boys in my house, I don't usually get any birthday cake. This year, I got two! The first one is from my mom: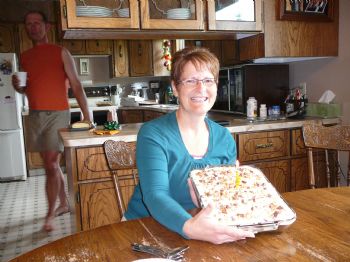 And this second one came later in the day. My hubby ordered it, and it was awesome! Several people were fooled that it wasn't cake, and one of my neighbours thought I had shellacked an old pair of running shoes! I think it's fabulous!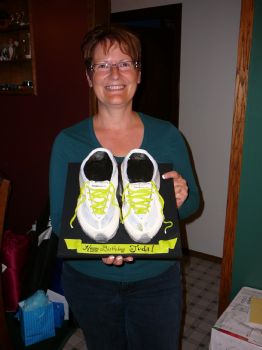 I hadn't wanted any cake that day, being that it was my son's graduation. I wanted the day to be all about him -- but my mom wasn't going to let me get away with that, and my hubby - well he just surprised the heck out of me!
Thank you for all the birthday wishes! It was a very sweet day to remember (I'll post pictures of the grad later).