Saturday, June 25, 2011

DH and I went grocery shopping this morning with Clean Eating (Feb 2011 issue) as a guide for some recipes.

Today for lunch we made the Goat Cheese & Kalamata Paninis shown on pg 45 of the magazine. We both gave it a thumbs up and it something we would make again. I used fresh basil from my container garden instead of dried and that gave it a nice boost. I also bought fresh whole grain bread from the bakery section and had it sliced.
For leftover bread tomorrow we will make the French Toast with Dark Cherry-Citrus topping from page 51. We've had that before and it's something our daughters like as well.

for dinner tonight we're trying the Lime Soup with Sour Cream & Tortilla Crisps on page 46. This has a lot of the mexican flavors that we love and i'm sure it will be a hit. It has chicken in it so for those of you into Mexican food it's a lighter version of chicken tortilla soup.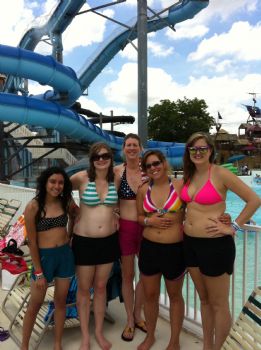 I just got back yesterday from a 3 day trip with my two daughters and their best friends. We went to Schlitterbahn and for the first time in over 15 years, I wore a 2 piece bathing suit. Thanks to the parks family friendly policy of allowing coolers, I was able to eat healthy during the day. We had cheat meals for dinner.
Now that I'm back home, I'm glad to have my bed and my eating routine back. I'm 4 1/2 weeks post surgery on my shoulder and still struggling to get back in my groove, but I feel that I'm making progress. I got the latest issue of Oxygen magazine today and I'm reading that for some additional recipes, exercises, and motivation. It is one magazine that never disappoints.
This afternoon my daughter's friend flies back to California and ends her 10 day visit with us. What a whirlwind it has been. The "Epic Sleepover" ends but the friendship still goes strong. Next on the agenda....driver's ed. I will now have three teenagers driving - consider yourself duly warned if you live in Texas!