Week 33- Talking about labor!
Monday, June 20, 2011
Hey all,
Had my doctor's appointment and all is really well. I gained about a 1.5 lbs between appointments which is good. I have no swelling in my feet or hands(knock on wood) which surprised the doctor considering how hot its been. My blood pressure is good and baby's heartbeat sounded great. Overall we had a good appointment. This was the appointment where we really started discussing labor and delivery though which of course freaks me out since this is my first baby. The doctor is totally on board with what I want though which makes me rest a little easier. I know that going into labor with a plan is important in some regards and I know that I will need to roll with the punches in other regards. He just wanted to make sure that it was something Tom and I talk about and work though and something that we agree on before we get to the hospital. He said next apointment on July 1 we will start checking for progress down below which of course freaked Tom out. He asked if he could not be present for those appointments haha! I'm excited that we are almost to the finish line but a little sad too. I want him to be here so I can hold him and kiss him but I like having him all to myself right now. I asked Tom yesterday if he would be mad if I didn't let anyone else hold him, not even his parents. I was teasing but I am feeling a little anxious about letting him go since I spent some much time and love creating him. I'm sure it's normal new mom feelings and that once he's here I will feel differently. (I HOPE). We had big plans to get a bunch of stuff done this weekend but I haven't felt great so we took it easy. I actually had to skip the gym Friday and today simply because I feel off and I am not pushing it on the days where I don't feel myself. I think it's a blessing that 33 weeks in I have felt as good as I have and have been able to maintain working out. We basically spent the weekend watching movies and reading. I napped alot which is another indicator that I am not myself. I usually don't nap once a day let alone 2 and 3 times a day. Saturday I napped 3 times(not for more than 40 minutes each time) so I think a rest was probably what the doctor ordered. I napped a little today too so I am hoping to be back to my old self tomorrow.
Speaking of tomorrow I actually got summonsed for jury duty and have to go first thing in the am. My doctor wouldn't right me an excuse to not go so now I have to traipse all the way to the courthouse which is about 45 minutes from my house and show them my big old belly and assume they don't pick me. This was the first time I've been summonsed for jury duty and was actually a little bummed that I couldn't go and possibly participate- maybe another time. Other than that my best girlfriend from college was induced on Friday and welcomed her baby boy into the world Friday afternoon. They didnt find out the sex ahead of time and she was sure it was going to be a girl becuase 4 of her friends were having boys. I think she and her husband were thrilled for it to be a boy though. So little Wyatt and our boy will hopefully be friends too!
This week I am working on some crafts for the babys room. We took a few pictures of the dogs this weekend that I want to frame and get hung in there. I also begged Tom's mom and my mom to send me a bunch of baby pictures so I can hang one of each of us and the baby once he arrives in the room. Hopefully we can get this room finished up because we have 43 days left! So exciting!
I think that's it for the week.
Belly shots as usual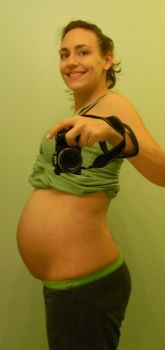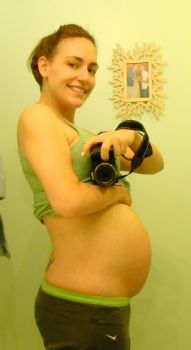 pics of the dogs for the babys room